This is an archived article and the information in the article may be outdated. Please look at the time stamp on the story to see when it was last updated.
Kansas City, Mo. —  Organic options are growing at your local grocery stores.  That includes Aldi!  If you haven't dropped into your neighborhood location, you may be surprised at what you find.
A quick trip through the produce department and you could find things like organic bananas or grape tomatoes.  Like other selections at the grocery store chain, don't expect to find a huge selection.  The good news is that you may be able to pick up some of your organic staples for a cheaper price, leaving you more money to spend on things at other stores.
The organic choices don't stop in Aldi's produce department.  Check out what I discovered in the canned goods section: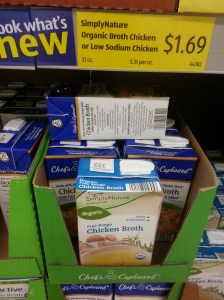 Organic chicken broth.  And it was just $0.20 more than the non-organic kind.
Want to learn more about what it takes for growers and farmers to earn organic certification?  Click here.