This is an archived article and the information in the article may be outdated. Please look at the time stamp on the story to see when it was last updated.
LAWRENCE, Kan. -- A fire destroyed a Lawrence motel Monday, but fortunately no one was seriously injured, officials say.
Ice posed a threat to firefighters who battled the flames from before noon to well after sunset at America's Best Value Inn, an extended-stay hotel in Lawrence.
"We're fighting very low temps, wind chills below zero, which has been hard not only on personnel but on equipment. All of those things have come together just to make this a very difficult fire to fight," said James King, division chief for the Lawrence Douglas County Fire Department.
The building is located on a hill, so water from hoses ran away from the building, creating icy driveways and access roads.
But the frigid temperatures didn't lessen the heat of the fire, according to one witness.
"It was like a fireball," Sam Carmen said. "You could just see the whole thing just catch. It was hot. I could feel it."
The old motel was made almost completely of wood, making it burn quickly and difficult to extinguish. A large portion of the building's roof collapsed.
One firefighter did fall through a couple stories of the building, but Fox 4 was told he's OK.
Crews battled flames for more than 10 hours. The photo below shows firefighters still fighting the fire around 4:30 a.m.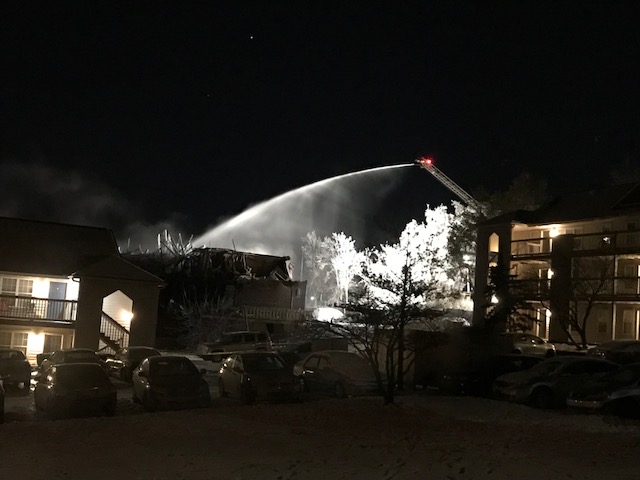 Previous coverage: