This is an archived article and the information in the article may be outdated. Please look at the time stamp on the story to see when it was last updated.
KANSAS CITY, Kan. — Officials are still trying to determine what caused a large fire that killed a 4-year-old girl Saturday in KCK.
Firefighters spent much of the day battling the deadly fire at College Park Townhomes on North 70th Terrace. The call came in just after 10 a.m.
When crews arrived, they learned there was someone trapped in one of the units. The fire was burning so hot and spread so quickly, they couldn't get to the little girl. Firefighters finally got to her by breaking through the wall of an adjoining unit.
She was taken to a nearby hospital where she later died from her injuries.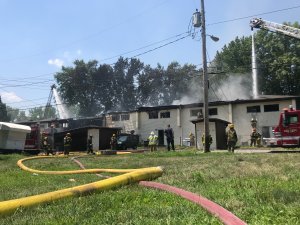 Another child and two adults in that townhome were also critically injured in the fire. At least one adult has serious burns, officials said. Two firefighters were also treated on scene for smoke inhalation.
KCK Fire Marshal John Droppelmann said the wind and how quickly the fire spread through the attic made it very difficult to contain.
"It was a common attic space, so once the fire got up into that attic, it just traveled down it," he said. "So it was very difficult with the aerial apparatus being able to, as they sprayed water, it just rolled off the roof. So we had to get crews up in there to get it finally knocked down. We were focused on making sure it didn't spread to the adjoining units."
Unfortunately, eight units in the building were affected. Droppelmann said the building is a total loss.
More than two dozen people were displaced from their homes because of the fire. The American Red Cross responded to the townhome community to provide assistance.
Officials said fire crews will be on scene for much of the night as they investigate and make sure there are no flare-ups overnight.