This is an archived article and the information in the article may be outdated. Please look at the time stamp on the story to see when it was last updated.
KANSAS CITY, Mo. -- Thanks to a tipster, police made a quick arrest in a murder just outside a Kansas City convenience store. And now that tipster will soon receive a big check.
@kcpolice @KCMO Now we are talking KC!! Thank you for the anonymous TIP regarding the recent homicide at 107th and Blue Ridge. Looks like we will be happy to approve our 1st $10,000 reward!! #dowhatsright #itaintsnitchin'

— KC TIPS Hotline (@KCCrimeStop) April 29, 2018
Police said the tipster's information helped detectives quickly track down 31-year-old Theodist A Lewis -- a wanted suspect in a homicide at a 7-11 convenience store.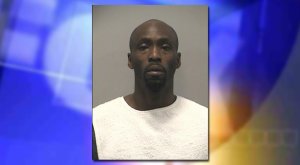 One tipster's willingness to come forward and help detectives with this homicide will pay off big for that person.
Sunday, all was peaceful and things look pretty normal at that 7-11 near 107th and Blue Ridge in Kansas City. Friday night, it was anything but calm.
Police said shortly after 11 p.m., gunshots rang out at the business as several customers were nearby. Police arrived and found 26-year-old Norez R. Brock, of Kansas City, critically injured. Brock later died at the hospital.
After the deadly shooting, investigators released a surveillance photo of someone wanted for questioning.
"We started getting tips within the next couple of hours and in fact as of this morning, they we were still receiving tip information after the arrest had already been made," Det. Kevin Boehm with Greater KC Crimestoppers said.
Detectives said thanks to a much-needed tip they were able to find Theodist A. Lewis hiding in a closet at a Kansas City home and arrest him for Brock's murder. Lewis was wearing clothes that matched the outfit seen in the surveillance photo police released. There was apparent blood on his shirt and jeans, according to a news release from prosecutors.
"It wasn't just the tip, but the tip was very helpful," Boehm said.
Det. Kevin Boehm credits the quick arrest to the fact that on Friday, the group increased its rewards in homicides from $5,000 to $10,000.
"It's completely anonymous. We don't even have gender," Det. Boehm said. "We certainly hope this is a good impetus for the community go get involved."
"Why does it take money?" asked David Williams, a neighbor. "People are scared to leave their homes."
Williams is relieved to hear about Friday's arrest. Still, he has mixed emotions.
"You know, if you see something, say something," Williams said. "You should be willing to take care of your neighborhood for no money at all."
Lewis is charged with 2nd degree murder and armed criminal action. Prosecutors requested a bond of $250,000 cash.