This is an archived article and the information in the article may be outdated. Please look at the time stamp on the story to see when it was last updated.
KANSAS CITY, Mo. – Instead of giving gifts for what would have been her son's 30th birthday, LaShonda Smith-Renfro carried only grief Sunday.
"He was my baby no matter how old he got, and it's hard. It's really hard to let him go," she said.
KCPD Homicide Det. Ryan Taylor said solving this case is up to the people who saw what happened.
"It's not snitching. It's doing the right thing and being a witness," he said. "To move these cases forward and get them prosecutable, we depend on the public. We depend on witnesses to cooperate with us. We're stuck now at that point."
"The person was angry with my son for what he did, and he retaliated as to shoot him down in cold blood," Smith-Renfro said.
Someone shot and killed Kevin Smith in August 2017. Police said it was in front of an apartment complex at 11th and Benton.
"It was late summer. The sun probably hadn't set quite yet. People were coming and going from the residence, so it's quite possible that we do have people who saw something and we need them to say something to us now," Taylor said.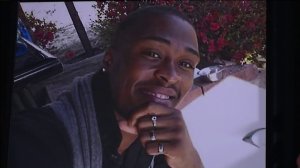 "He was apparently trying to get to one of his friend's apartments and the guy shot him down before he could get in the door," Smith-Renfro said.
"It was a disturbance," Taylor added. "It doesn't matter what Kevin was doing. Nobody has the right to take another person's life."
It was a life his mom said was full of character, laughter and music.
"He'll start singing and acting goofy and singing and dancing. He'll just make everything shine for you," she said.
Now, she wants to shine light on his murder and remind everyone of the life he won't get to live out and the memories they don't get to make.
"I was robbed of that. I was robbed," she said. "I want the person who took that from me to be punished, to be judged by 12. I want him to be judged by 12 and get the harshest punishment possible because he deserves it."
Police are asking anyone with information to call the TIPS Hotline at 816-474-8477 or submit a tip online here. All tips are anonymous.