This is an archived article and the information in the article may be outdated. Please look at the time stamp on the story to see when it was last updated.
KANSAS CITY, Mo. -- Detectives say they know exactly who killed a young woman in Kansas City two years ago. Now, it's a matter of finding him.
Jamie Ramsey can put a face to her nightmares.
"I hope they find him. I hope there's some part of him that realizes what all he took away," she said. "I think my biggest frustration is that he was in custody at one point. That they didn't feel like they had enough to charge him, so he was let go, and that he's still out there."
She's talking about about Deric Canady, and police said he's the reason this metro mother will never recover.
On Nov. 23, 2016, Ramsey was in St. Joseph for family Thanksgiving. Her daughter, Greican Davidson, stayed back in Kansas City because she had to work.
"She worked at Foot Locker. She collected Jordan shoes. That was her dream job at the time," Ramsey said.
She described her daughter as sarcastic, headstrong and a normal 20-year-old girl. The last texts they shared were an exchange of "I love yous."
"The following morning, I'd received several phone calls from a private number, which I didn't answer because it was private," she said. "I called him back and was informed that my daughter was the victim of a homicide."
Detectives said Greican was with a male friend and that they were meeting three other guys off 55th and Forest, just off Troost. Police said there was an argument and Canady shot Greican. She later died at a hospital.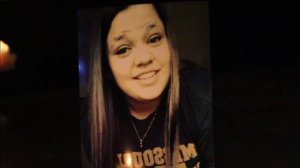 "She was my only daughter. My only child. My whole heart," Ramsey said.
She can't make new memories with her, but the ones she has are frozen in place.
"She was a really good artist. I have several of her things hanging up in my apartment still," she said. "I even have a Winnie the Pooh page out of a coloring book that she colored when she was like five on my refrigerator."
And until police find Canady or he turns himself in, Ramsey has no choice but to believe.
"I like to tell myself anyway, he`ll be held accountable -- whether it's in my lifetime or the next. I'd just like to be around to see it," she said.
If you know Canady or where he is, police are asking you to call the Crime Stoppers TIPS Hotline at 816-474-8477. You can also submit a tip online here.
All tips are anonymous, and a tip leading to Canady's arrest could result in a $10,000 reward.