This is an archived article and the information in the article may be outdated. Please look at the time stamp on the story to see when it was last updated.
KANSAS CITY, Mo. -- The countdown is on for the World Cup final. On Wednesday, Croatia earned its spot in the finals for the first time.
Large crowds gathered to watch the match against England.
Mike Kalcic went to school at St. John the Baptist Catholic Church. He returned Wednesday to cheer on Croatia with nearly 500 of his closest friends.
"It is all about the country. There are people here that have come over from Croatia," Kalcic said.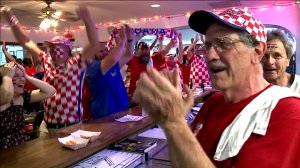 Across town, England soccer fans gathered at White House Pub.
Julie Rimet just moved to Kansas City from England two days ago. She decided to watch the match in a restaurant that felt like home.
"There is this sense of cohesion. I can only compare it to when the Olympics came to London," Rimet said.
Win or lose, the event brought people together. See more of the fun in the video player above.
On Sunday, Croatia will take on France on FOX4 to battle for the World Cup trophy.