This is an archived article and the information in the article may be outdated. Please look at the time stamp on the story to see when it was last updated.
KANSAS CITY, Mo. - Construction fencing is set up around the main entrance to Union Station as crews progress on a $1.6 million project to renew and preserve the iconic building.
"We're tuck-pointing almost this entire 850,000-square-foot complex and taking off nearly 20 years of bio-hazards," said George Guastello, president and CEO of Union Station.
It's the first time exterior renovations of this magnitude have been done since the 1990s. Project leaders said it's needed in part because of general wear and tear from the weather.
"You can see the difference in the darkness of the building, which we`re taking all of that off," Guastello said.
"Not only are we preserving the building but we`re also maintaining and ensuring that there will be no water that goes inside the building," he explained.
For a few weeks, this work will cause changes in parking and access to the historic KC building.
"We're doing everything we can to keep all of the inflows and outflows moving," said Jerry Baber, Union Station chief operating officer. "Front parking is available. All the access to the streetcar is still available. Post office, Amtrak access is still available."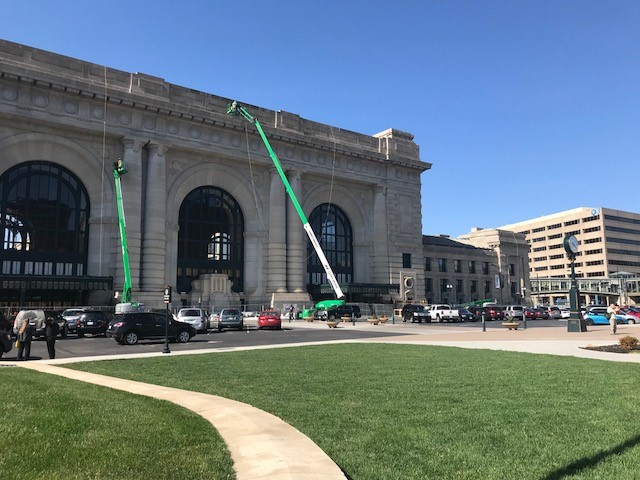 The buildings front entrance doors on the western side are blocked off by fencing. A few parking spaces have also been temporarily blocked off in order to give the large cranes more space to maneuver around the building.
"Our large parking garage in back is the best place to park. It's the most convenient," Baber said. "You're going to avoid the construction in the front of the building, and you can access that just like you always would. That's going to be your easiest way to get in and out."
The $1.6 million project should conclude in late May or early June. It's a huge investment for a beloved community space that has had to work to remain a staple in Kansas City.
"Taxpayers many years ago raised the money to save the building, but today we receive no tax dollars, no state, local or federal dollars. We operate solely on our own on earned income and donations," Guastello said.
So project leaders are calling on the public for help.
"We hope that all of Kansas City will go online at Union Station.org and give us $5, $10, $100 in order to help us maintain this beautiful building," Guastello  said.
To learn more about the project or donate to the fundraising effort, visit this site.