This is an archived article and the information in the article may be outdated. Please look at the time stamp on the story to see when it was last updated.
KANSAS CITY, Mo. — Fellow cyclists gathered for a bike ride in remembrance of one of their own on Friday night. Thirty-two-year-old Anthony Saluto was hit and killed while riding his bicycle Sunday evening.
Dozens of cyclists hit the road in honor of Saluto, traveling to his visitation and then to the crash site. Some debris at the scene of the accident remains; a solemn reminder of what happened last weekend.
With a warm breeze and plenty of sunshine, Friday afternoon offered the perfect opportunity for a bike ride, but Saluto's absence was felt by all.
"Just a great guy, positive energy, one who would do anything for anybody," said former roommate Peter Quick.
Saluto was an avid cyclist who was riding his bike when a driver veered into oncoming traffic and hit and killed him on Independence Avenue.
"It was kind of hard to believe," Quick continued.
The sudden tragedy has rocked the close-knit cycling community.
"A lot of us feel the same way, that that could've been one of us. And it can really touch you to the heart, even if you don't know him personally, and that's what it kind of did to me. I see that that could be me," said Jason Heath with rider group KC Critical Mass.
That stark realization and bond inspired the group to organize a remembrance ride that started in Westport, went down to Saluto's visitation and ended at the crash site.
"We were just trying to celebrate Anthony, you know, the great guy he was," said Quick.
Saluto's spirit shined as a ghost bike – a somber memorial that symbolized a cyclist's life lost, and a reminder drivers to be more careful.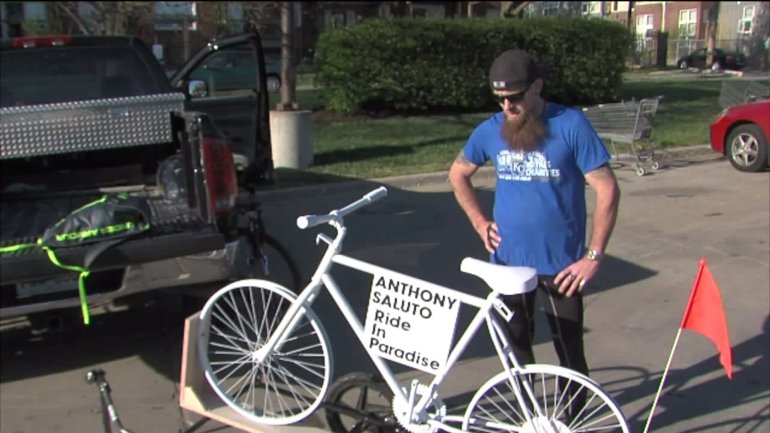 "We just want to remind people that life is precious, and it's meant to be celebrated and that's what Anthony loved doing on his bike, so that's kind of why we're out here tonight doing that," said Steve White, former president with Cycling Kansas City.
Saluto's funeral will be Saturday morning. As for the driver who allegedly hit him – investigators say they're waiting for lab results to determine how the crash happened and what kind of charges might be filed in the future.