This is an archived article and the information in the article may be outdated. Please look at the time stamp on the story to see when it was last updated.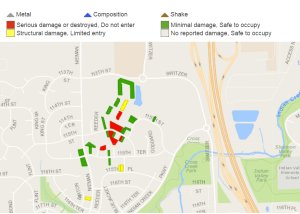 OVERLAND PARK, Kan. — An interactive damage map shows the extent of the March 20 fire that destroyed the large CityPlace apartment complex and spread to surrounding homes.
While the cause of the initial fire was determined by investigators to have been accidental, many pointed to the prevalence of wood shake roofs in the neighborhood as a factor that led to the widespread collateral damage.
The interactive map on OPKansas.org shows that the vast majority of homes in the area have composition shingle roofs. However, of the nine structures in the surrounding neighborhood classified as having "structural damage, limited entry" or "serious damage or destroyed," six have wood shake shingles.
As the apartment complex went up in flames, burning embers could be seen raining down on roofs, although some homes caught fire from exposure to the intense heat of the apartment complex.
FOX 4 Problem Solver Linda Wagar recently spoke to an insurance broker who said that of the five insurance companies she worked with, none would insure homes with shake shingle roofs because of the fire danger.
The city's website says in total, damaged or destroyed 25 structures (33 units) in the neighborhood south of the CityPlace complex.
The eight-alarm fire caused an estimated $23 – 25 million in damage.