This is an archived article and the information in the article may be outdated. Please look at the time stamp on the story to see when it was last updated.
OLATHE, Kan. — The former Great Mall of the Great Plains property is getting another chance.
Woodbury Corporation, a Salt Lake City-based real estate development company, announced Tuesday it plans to redevelop the 100-acre site, located at 151st Street and Interstate 35.
The Great Mall of the Great Plains closed down in September 2015 and demolition on the mall began in July 2016. Now, the empty land will be transformed into a mixed-use property named Mentum.
The $300 million project will include about 250,000 square feet of entertainment, retail and restaurant space; 200,000 square feet of office space; 300 apartment units; two hotels; and a multi-purpose arena, the company said.
Developers are still working out specifics, but Woodbury said it is considering "a number of entertainment-focused anchors," including an interactive golf facility, a movie theater an a fitness center.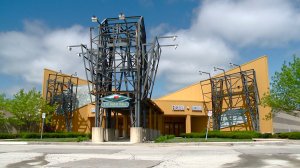 The 4,000-seat arena will include a community ice center for youth hockey, which will be the new home for the Kansas City Youth Hockey Association. The arena will be operated by a company owned by Lamar Hunt Jr., the same man who owns the Kansas City Mavericks and the Topeka Pilots.
"We are all excited about the success of the KCYHA, and we know that the new arena – with all its related facilities – will position the Kansas City area as the hub for youth hockey in our region," Hunt said.
Woodbury Corporation has had a hand in several other Kansas City-area developments. The company is currently working on The District at Lenexa City Center project and the Avenue 81 project in Overland Park.
Nearby businesses are looking forward to the development and the visitors it will hopefully bring to the area.
"I'm really excited about the living that's going to be over there," said John Staton, senior vice president of operations at Olathe Health System. "I think that would be a draw to the area as well.
"I like the excitement of having all these restaurants and potentially a sports arena and living complexes," said Jeffrey Wongs, co-owner of Grin Eye Care. "It's going to bring a lot of energy to the area, kind of like Zona Rosa did up north."