This is an archived article and the information in the article may be outdated. Please look at the time stamp on the story to see when it was last updated.
INDEPENDENCE, Mo – A disabled man from Independence says he was tied to the ground, beaten, and his car was stolen.
He says he's left with little to his name, and the suspects remain at large.
"Only thing I can remember is being punched in the face," said 52-year-old John Ramsey, whose blood is now smeared all over his own bed — where three men beat him. "All I could do was sit on the floor and take what they were doing to me."
Ramsey says one of the suspects then dragged him to the living room and tied this phone cord tightly around his wrists. It too is stained with blood.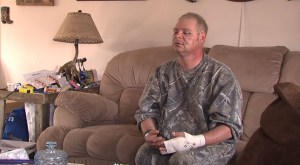 "They were going through the house while one with the gun was holding me there," said Ramsey.
The suspects stole most of Ramsey and his roommate Dale Palmer's belongings.
"My TV is missing. All of the stuff from Comcast is missing. My computer is missing. My tablet is missing," said Palmer.
While Ramsey was tied to the ground, he felt relief as he realized the suspects were leaving.
"They told me to stay there for a few minutes and they left," said Ramsey. But his relief turned to panic as he realized the suspects had taken his car keys and were leaving in his royal blue Nissan Xterra.
"I'm an innocent victim and I can't do anything. I can't even leave my house now," said Ramsey. He says he was able to stand up, wrists still tied, and run to a neighbor's house for help.
Ramsey was already on medication for a heart problems, now his dosage has doubled because of his injuries. His sister and roommate are now sticking close.
"I feel bad for him. I just want these people caught," said Susan Lasley, Ramsey's sister. She says the suspects not only have his car but the keys to his home and with a busted back door– the 52-year-old says he's having a hard time finding peace.
"I couldn't go to sleep last night," said Ramsey. "I was scared they were gonna come back."​