This is an archived article and the information in the article may be outdated. Please look at the time stamp on the story to see when it was last updated.
PLATTE COUNTY, Mo. -- A metro mom is now facing charges after a doctor says tests show her young child ingested methamphetamine.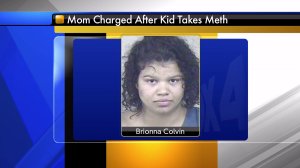 A Platte County prosecutor charged Brionna Colvin, 23, with endangering the welfare of a child.
According to court documents, Colvin didn't prevent a one-year-old in her care from ingesting methamphetamine. They also reveal that Colvin used drugs around the child.
The child tested positive for the drug at Children's Mercy Hospital.
Colvin has bonded out of the Jackson County Detention Center. Arrest records show she was taken into custody by Kansas City police in early August, and that she admitted to having used meth.
However, documents from the Platte County Prosecutor say she was surprised to know her baby had methamphetamine in her system.
Colvin told police she went to a house in east Kansas City where she used the drug, but the baby wasn't with her at this time.
County Prosecutor Eric Zahnd says this case is serious because it involves a helpless child.
"When a one-year old baby comes into contact with methamphetamine, that's a very dangerous thing. It's why we have, in this case, endangering the welfare of a child, by putting that child in substantial risk to the child's life and health," Zahnd said.
Colvin wasn't at home when our FOX 4 crew visited her doorstep this afternoon. She's due in court on Dec. 12.