This is an archived article and the information in the article may be outdated. Please look at the time stamp on the story to see when it was last updated.
KANSAS CITY, Mo. — A woman who previously served a night in jail for a city animal abuse citation now faces more serious charges. Kimberly Anderson, 36, was charged Wednesday with a felony count of animal abuse and a misdemeanor count of animal neglect or abandonment for allegedly torturing her Tibetan Spaniel, Roadrunner.
Court documents filed by the Jackson County Prosecutor's Office allege that Anderson abused the dog on November 9. A witness told police that Anderson wrapped a leash around Roadrunner's neck to pull him outside, and then picked Roadrunner up and slammed the dog on concrete before choking and kicking him. The witness said Anderson then went back to her apartment and left the dog outside.
A separate witness said he saw Anderson throw Roadrunner off of a third-floor balcony and then went downstairs and picked the dog up by the collar. He said he saw Anderson take the dog around the building and didn't see either of them again.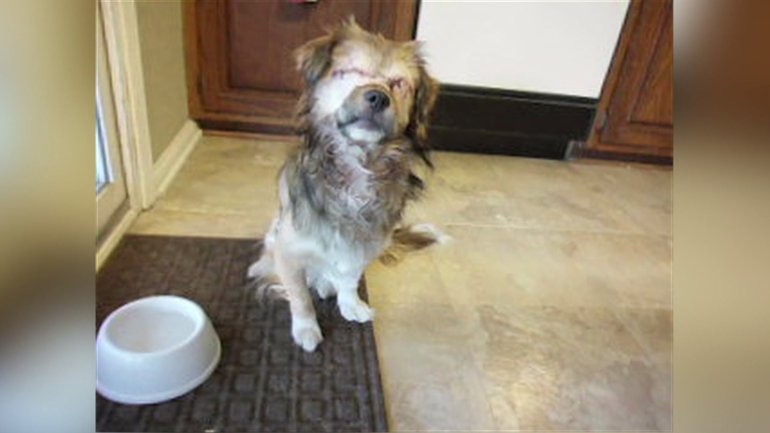 Police and animal control were called to an apartment complex in 1200 block on Independence Avenue on November 14 where Roadrunner was found and taken to the KC Pet Project and then BluePearl Veterinary Partners. Medical staff had to remove both of the dog's eyes due to extensive injuries.
Anderson was arrested that day and denied abusing Roadrunner during her interview with police. She said her dog ran out of her apartment before she could catch him and said the dog was hit by a car.
She said she panicked and left the dog by the side of the road, neglecting to take the dog in for medical treatment. She also told police she avoided officers who came to the apartment complex on November 9 according to a probable cause statement.
After Anderson served one night in jail for the city citation, the next day she told FOX 4 she would never abuse any animal.
"People think that I abuse my animals, I don't. I refuse to abuse animals," she said.
She also said her neighbors lied to police. Fearing reprisal, Anderson said she didn't want take Roadrunner back and believed he'd be better off in a different home.
The KC Pet Project said Roadrunner had endured years of chronic abuse, and was taken to a foster home after being treated. The foster family said Roadrunner had been eating, drinking and behaving like a normal dog.
The city previously said it would pursue further charges against Anderson past the city citation, but when the state stepped into prosecute, those charges were superseded.
"Acts of violence against a defenseless creature should be met with serious consequences," prosecutor Jean Peters Baker stated in a news release.
Prosecutors requested Anderson's bond to be set at $20,000 with special conditions, including the surrender of any animals she owns to animal control, and that she cannot have contact with any animals. If she's convicted of the felony animal abuse count, she could serve between two and four years in the Missouri Department of Corrections or a special term not to exceed one year in Jackson County jail. She may also be fined $5,000 for the felony. If she's convicted of the misdemeanor count, she could serve up to 15 days in county jail and/or pay a fine of $500.
Previous Coverage: