This is an archived article and the information in the article may be outdated. Please look at the time stamp on the story to see when it was last updated.
INDEPENDENCE, Mo. — A metro woman claims an Independence veterinary clinic neglected her dog, and says her pet looked "emaciated" after spending three weeks in the clinic's kennel.
Independence Animal Hospital has been in the community for decades, and according to the doctors who work here they rarely get complaints.
Online reviews back them up, as more than 100 customers have given the clinic 4.8 out of 5 stars on its Facebook page.
But dog owner Cristina Caetano said while she expected the clinic to take care of her dog, she feels like they did the complete opposite.
"I mean look at her!" Caetano said. "I can wrap my fingers around her. This isn't my dog."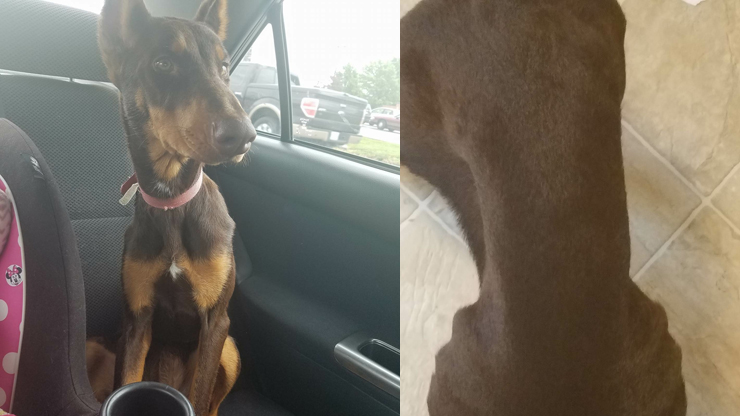 Caetano said she was in shock after she picked her pet up Friday from the clinic's kennel and realized the pup was noticeably thinner.
"They said give us a few minutes, we'll bring her out," she recalled, "and here she comes down the hallway, I mean, emaciated, absolutely emaciated, skin and bones. Not the same dog, not even recognizable!"
Caetano pointed to now-visible ribs and a shrunken backside on her 6-month-old Doberman named Kita.
She compared the dog's appearance to several photos snapped last month and estimated the dog has lost up to 10 pounds while spending the past three weeks in the clinic's kennel while her family was out-of-town.

"To some people, a dog is a dog," she said. "To me, my dog is my family. My dog is just as important as my child. This is heartbreaking for me when you entrust in somebody to care for your animal and they do the complete opposite. It`s sickening to me."
Cateano said she checked on Kita almost every day, and clinic staff told her the dog was doing great. She's now questioning why no one at the clinic told her the pup was losing weight.
"How can you be a licensed veterinarian and allow an animal to be in that condition, and say nothing?" she asked.
Doctor Matt Wingert, veterinarian and co-owner of the clinic, said Kita was an active puppy who enjoyed her time at the kennel and ate two meals a day.
"We pride ourselves on doing a good job," he said.
He said Kita showed no signs of sickness and he never had any concerns about her health.
"The dog was thinner than it was when it came in, I won`t deny that, okay?" Dr. Wingert said. "But I don`t think it was sick or in a critical area where we really worried about it. Like I said, the dog acted great!"
He believes Kita, like most Doberman puppies, are naturally thin. He expects she will likely gain back the weight over the next few days.
"The dog seemed to eat fine and it wasn't underfed, in our opinion," he said. "If you overfeed dogs in a boarding situation, they will end up with diarrhea and we have no problem cleaning it up, but that can dehydrate the dogs and lead to some further issues."
Dr. Wingert said often dogs experience issues when they have been boarded in a kennel for a while.
"A lot of times they miss their owners," he said. "They miss their home environment, things like that."
But he said that wasn't the case with Kita, who he thinks might have dropped weight by eating less – but still a healthy amount – of food than she does at home, and by running around outside during daily play time.
It's an explanation Caetano just doesn't buy.
"She`s an innocent animal," she said. "She doesn't have a voice. She can`t speak up. She's not in good health and this isn't the dog that I dropped off."
Dr. Wingert said if he did anything wrong in this situation, "It was probably a lot of poor communication between the two of us," he said. "I'd be happy to talk to her again and we can do whatever we want to rectify the situation."
He's since offered Caetano a full refund.