This is an archived article and the information in the article may be outdated. Please look at the time stamp on the story to see when it was last updated.
WARNING: The following story contains an image that some may find disturbing. Viewer discretion advised.
SAGINAW, Mich. — A dog is running around and doing well, but only days ago he had an arrow in his head.
The dog is now inside animal control continuing his recovery after the terrible ordeal.
"That's terrible, how could anybody be so cruel? That's the most gross thing I've ever heard," said Joann Soul, neighbor.
Neighbors are in shock after a pitbull was found wandering around their neighborhood with a crossbow bolt lodged in its snout.
"It makes me feel really bad. I don't like animals treated like that," Soul said.
Elaine Thompson is the animal control officer who got the call from Buena Vista Police to come pick up the pitbull.
"He met me over there. Real sweet pitbull, had it in the back of his car dripping blood all over," Thompson said.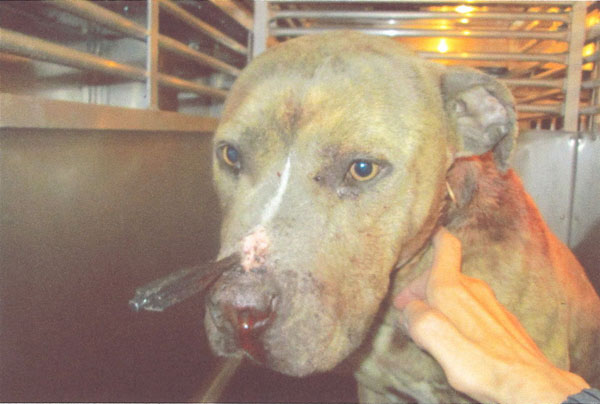 Thompson said it's actually not the first time she's heard of a dog like this getting shot for no apparent reason.
"I don't know if this is something people think is a game, but it's a very serious offense, animal cruelty we do take very serious," Thompson said.
Believe it or not the dog is expected to be just fine. Now that the arrow's out he's going to make a full recovery.
"He had surgery. The little arrow was removed and he's adjusting quite well, no residual effects from it," Thompson said.
Now the hunt is on to find out who did this and why.
"Our prosecutors around the state here are cracking down on animal cruelty. It's senseless," Thompson said.