This is an archived article and the information in the article may be outdated. Please look at the time stamp on the story to see when it was last updated.
SEDALIA, Mo. – It's not your average anniversary gift at work. One employee at a Sedalia fast food restaurant got a huge gift from her boss, commemorating 30 years of service.
Julie Binning had no idea what was waiting for her when she arrived at the Sedalia Dairy Queen on Wednesday morning. She's worked in the restaurant for three decades, and her boss wanted to reward her loyalty on this occasion. She's risen through the ranks, and currently works as a shift manager at the restaurant.
Binning started at Dairy Queen towards the beginning of 1986, so this anniversary was celebrated a touch early, but the reward was right on time.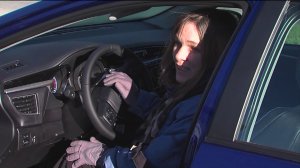 Julie's son drove her to work in her 80's model sedan, with no idea a new car was waiting for her. The restaurant's local owner, Jorge Guevara, bought a new Toyota sedan for her, presenting it to her as she arrived for work.
"I saw balloons, and I'm going, 'Why is everyone out in the street? Are we doing some kind of Christmas thing?" Binning told FOX 4 News.
"I was hoping she didn't faint," Guevara said, just minutes after a cheering throng greeted Binning as she received the car keys.
"She's a leader," Guevara said. "She's honest. She's punctual. She's reliable. She's always dependable. You can always count on her to be there."
"Can I cry now again? That's what I do. It just floored me," Binning said.
Binning's new blue sled arrives just in time. The car Julie has been driving, a late 80's four-door, has as many years as her job does, and it's in the shop more than it's on the road. Binning says since cancer took her husband, Donald, two years ago, she's been overwhelmed with hospital bills, making a new car an unattainable dream.
"It's not that big of a bill, but you gotta pace it out," Binning said, while dabbing away a tear. "I just wouldn't have been able to do it for a long time."
Binning says the best part about getting the new car is it reconnects her to her world. She's already planning to travel in the car this summer, and she says she'll never need a lift to get to work again.
Guevara also paid the first year's auto insurance and taxes on Binning's new car. He says it's the least he could do to reward her loyalty.