This is an archived article and the information in the article may be outdated. Please look at the time stamp on the story to see when it was last updated.
INDEPENDENCE, Mo. — A local neurosurgeon gave the Kansas City community some uplifting information Friday, as many get ready to celebrate the Easter holiday.
Dr. Roger Ray, neurosurgeon at Centerpoint Medical Center says Independence Police Officer Tom Wagstaff, 42, shot in the head on March 29th as he responded to a home burglary in Independence, has been transferred out of the hospital to a rehab facility.
Today we are pleased to report that Officer Tom Wagstaff has been transferred to a long-term rehabilitation facility for his next phase of recovery. In my 30+ years as a physician, I've yet to see such a remarkable recovery – truly a miracle in the making.
While Officer Wagstaff has a long road to recovery, we are confident that he will continue to make improvements and we will be by his side throughout his journey.
We thank the community, the Independence Police Department and the support from around the nation that has helped to support this family and our first responders."
– Dr. Roger Ray, Neurosurgeon, Centerpoint Medical Center
Wagstaff responded to the home burglary in the 3600 block of Delaware, where inside, the 82-year-old homeowner was being assaulted.
When the suspects heard police sirens, they fled in the homeowner's car. The gunshots were caught on a neighbor's surveillance camera, and you can see an Independence police officer trying to shoot out the tires of the escaping SUV. Independence Police Officer Tom Wagstaff, 42, was shot while the suspects got away. Moments later, an ambulance sped in to get the injured officer, who had been shot in the head.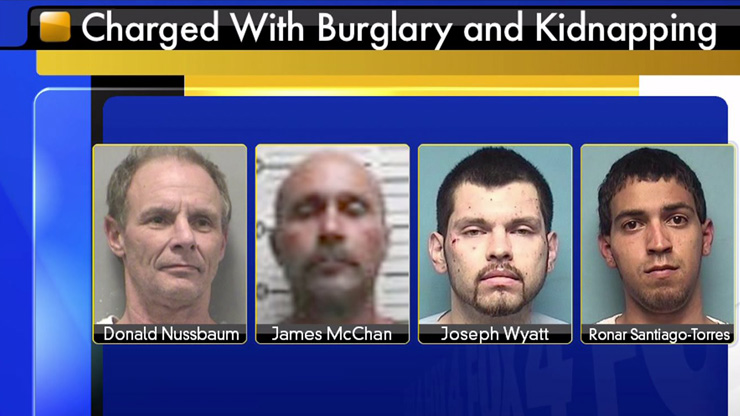 Joseph E. Wyatt, 28, and Ronar Santiago-Torres, 27, are both charged with first-degree robbery, armed criminal action, first-degree burglary and kidnapping. James McChan, 56, and Donald Nussbaum, 51, face first degree robbery, armed criminal action, first degree burglary and kidnapping charges for allegedly acting as accomplices.
Wagstaff has a wife and two teenage sons. A GoFundMe account has been started for medical expenses.
FOX 4 will have more on Wagstaff's recovery coming up on FOX 4 newscasts, the fox4kc app and fox4kc website.