This is an archived article and the information in the article may be outdated. Please look at the time stamp on the story to see when it was last updated.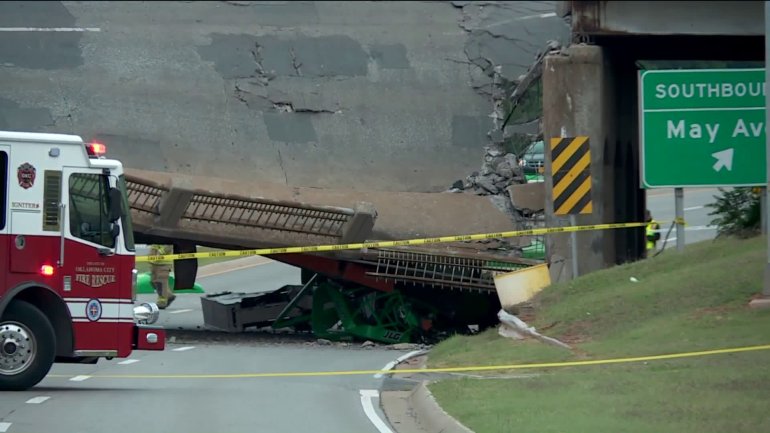 OKLAHOMA CITY – A large section of an Oklahoma City overpass pancaked down onto an expressway Thursday.
Initial reports indicate the bridge collapsed around 2:40 p.m. after a tractor-trailer heading westbound crashed into the bridge, according to sister station KFOR.
The driver of the truck told police he passed under the other side of the bridge earlier with no issue.
No injuries have been reported at this time.
May Avenue and the Northwest Expressway are closed in all directions where they intersect due to the bridge collapse.
Officials say engineers are evaluating the damage to the bridge and an estimate on the time needed for repairs won't be available until the evaluation is complete.
KFOR crews are working to gather more information.
The Northbound lane bridge of May Ave has collapsed over NW Expressway. Steer clear. pic ctsy Allison Broxterman pic.twitter.com/ff1zrp8YrU

— Peter Fulmer (@misterfulmer) May 19, 2016
https://twitter.com/laurencathay/status/733386968319590400
Semi driving on NW Expwy ran into May Ave. bridge. Part of bridge has collapsed. Avoid area.

— Oklahoma City Police (@OKCPD) May 19, 2016
Responding to a reported bridge collapse at Northwest Expressway and May.

— Oklahoma City Fire (@OKCFD) May 19, 2016
Traffic at NW Expwy/May shut down in all directions.

— Oklahoma City Police (@OKCPD) May 19, 2016
This is a developing story. Check back for updates.