This is an archived article and the information in the article may be outdated. Please look at the time stamp on the story to see when it was last updated.
KANSAS CITY, Kan. -- Two dead, three injured. That was the scene early Sunday morning after a truck careened off 63rd Street in Kansas City, Kan., and slammed into a tree.
Then it got worse when a woman who stopped to help became a victim herself.
"The truck had gone down into the woods and there was a guy hanging out the window," said one woman, who asked not to be identified, when she drove to the accident on 63rd and Rowland Avenue to offer her help.
She yelled at the driver of the wrecked car who, she said, then opened his eyes and got out. The woman -- a mother of three who lives about a block away -- said his face was covered in blood and he was holding his side. But she said he seemed less concerned about his injuries and more concerned about her SUV, which she had left running by the side of the road in her hurry to offer aid.
"I said 'please, please, don't take my truck,' and he grabbed my arm," she said. "He told me to get in the truck with him."
But when she refused, he took off. Neighbor Chanel Hunt was watching from her porch while talking to a 911 operator.
The operator asked me if everybody was okay. 'I'm not for sure but I'm not going to the car to see.' As I was saying that, that's when the guy drove off in the lady's vehicle," Hunt said. "I was shocked."
Kansas City, Kan. police said two of the passengers in the wrecked truck died at the scene. Another two are in critical condition at a local hospital. (At the time this story was written the driver had not been arrested.)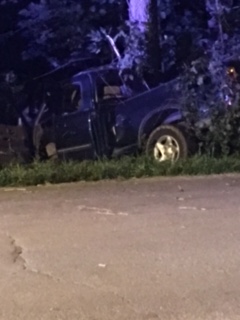 The truck hit the tree with such force that its roof collapsed and one of the passengers had to be extracted with the jaws of life.
Witnesses said that found among the wreckage were multiple weapons, including a 9mm handgun and an AR-15 semi-automatic rifle.
Despite the danger, the good Samaritan said she doesn't regret trying to help.
"They are humans. I wouldn't dare not stop. I would do it over again."
The woman told FOX 4 that her car was recovered a few hours later by police. Since it is now evidence in a crime scene, it may be a while before she gets it back.