This is an archived article and the information in the article may be outdated. Please look at the time stamp on the story to see when it was last updated.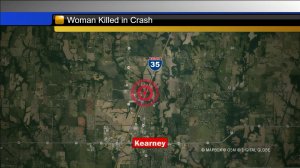 CLAY COUNTY, Mo. — A driver is dead after a late-night crash north of Kearney.
Missouri troopers say say Dawn Wilson of Cowgill, Mo. had pulled off to the emergency area on the left side of i-35 — when her car was hit from behind.
Wilson died at a liberty hospital. the other driver was not seriously hurt.