This is an archived article and the information in the article may be outdated. Please look at the time stamp on the story to see when it was last updated.
GREEN RIDGE, Mo. — He's not even in high school yet, but he's already the voice of his community.
Carter Haslag is working overtime to help folks in his community during their toughest times. The 11-year-old from Green Ridge, a small Missouri town southeast of Kansas City, is leaving his mark on every life he touches.
He knows a lot about farm animals and has the best sense of humor. But this fifth-grader has seen his fair share of hardships.
This fall, Carter learned that his favorite fifth-grade science teacher, Sue Kohues, was sick with Stage 4 endometrial cancer.
"I really love her as a teacher," Carter said.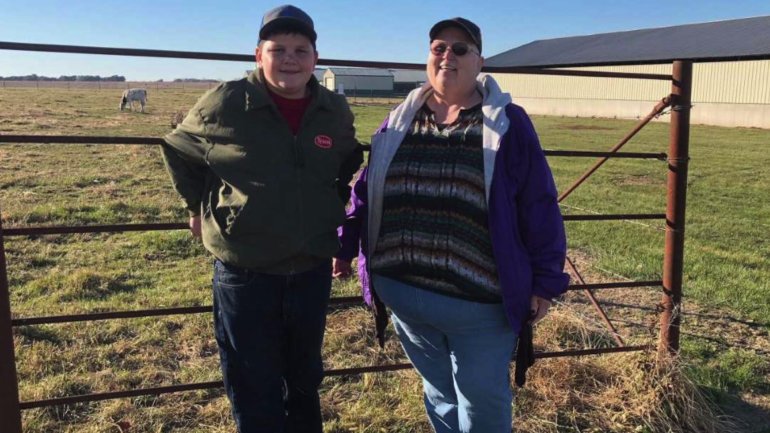 Another fun fact about Carter: He's an auctioneer.
"You got to roll your tongue. You got to make your lips move," the 11-year-old said. "You got to really talk fast."
He took his talent and put it to work — all for a good cause.
"It took a community to do it, but it took someone to get it started, and it was started by an 11-year-old," said Eddie Foster, Carter's mentor. "Not too many 11-year-olds would take on that kind of responsibility, and he never hesitated."
He auctioned off everything from baked goods to wood work, and it paid off.
"It was really a surprise, but she deserves it," Carter said.
He helped raise $4,500, all of which went to help pay for his teacher's medical bills.
"After the auction, she gave me a hug and she teared up," the fifth-grader said.
They were tears of joy that the boy fighting his own fight was now also fighting hers.
Carter was hit in the head when he was a baby and was diagnosed with epilepsy as a child. Seizures were just part of daily life.
"It was a very hard time for a little bit," Carter said.
But with the help of a team of doctors, Carter said he's able to manage his attacks. One thing that helps: being in his happy place on the farm.
Carter wants to be a full-time farmer and part-time auctioneer when he grows up. He's taken part in several auctioning events within his community and has received several local awards for his involvement.
If you know a young achiever who is 18 years old or younger and is doing exceptional things, FOX4 wants to hear from you. Nominate them here.