This is an archived article and the information in the article may be outdated. Please look at the time stamp on the story to see when it was last updated.
NORTH KANSAS CITY, Mo. — North Kansas City High School's debate team is on cloud nine.
The team recently became three-time champions and took first place in individual events, debate and overall in its division. It's a first for this team.
"It's a pretty big deal," said speech and debate coach Amanda Dolinger. "I can't find in school history if that has actually ever happened in the over 90 years that we've been a school."
"Dream big, work hard, make it happen," 11th-grader Jazmine Johanson said.
It's a huge feat for students practicing their debate skills inside Dolinger's classroom.
"To see that we won overall by over 100 points was just incredible," Dolinger said.
But it didn't come without some hard work.
"We work as hard on the losses as we do on the wins, and I think that contributes to how we do things as a team and overall just makes it fun for everybody," Johanson said.
Johanson discovered her interest in debate in the sixth grade. Her hard work and many, many hours of practice have paid off. The self-proclaimed future attorney competes in the student congress division and says this accolade is a long time coming.
"It just means a whole lot to the team to place that high," she said.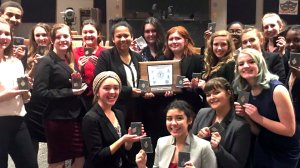 "It's kind of a Cinderella story of sorts," tenth-grader James Moloney said.
Sophomore "Lincoln-Douglas" officer James Moloney agrees, saying the team has struggled in the past, but in recent years has really hunkered down and fine-tuned as a unit.
"The Northtown team is focused on quality over quantity," he said. "We're not the biggest team, but I think that we are the best team."
The state and national qualifiers for speech and debate are coming up in March, and NKC High School is working hard to prepare.
FOX 4 also wants to acknowledge Staley High School, who tied for first place in the debate category in its conference championships this year.
If you know a young achiever who is 18 years old or younger and is doing exceptional things, FOX 4 wants to hear from you. Nominate them here.