This is an archived article and the information in the article may be outdated. Please look at the time stamp on the story to see when it was last updated.
NORTH KANSAS CITY, Mo. -- For the first time in North Kansas City School District's history, four students from two high schools have made Missouri's All-State Orchestra.
Barbara Miller, the director of orchestras for North Kansas City High School, has been in the position for 16 years, and this is a first for her.
"This is the first time since I've been in this job that we have had four students from our school district make all state orchestra," she said. "It is just a phenomenal feat."
The four students selected are Sam Whitty, a junior at Staley High; Nathaniel Mayer, a junior at North KC High; Laura Steel, a senior at North KC High; and Kyleigh Taylor, a junior at Staley High.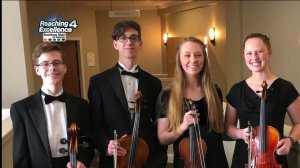 But it wasn't easy.
"These students have the talent plus the incredible hard work and the discipline and the courage to audition for this," Miller said.
"Hard work is really the root of everything," Steel said. "You can have all the natural talent in the world, but if you don't couple that with the hard work ethic, then it's essentially useless."
The process to make All-State takes about six months. Students who earned All-District ranking were eligible to audition for All-State in December. It's a very selective process. Students have one shot to perform in front of a judging panel, and a decision is made soon after.
Musicians from all over the state then came together in January to play as one in a concert.
"I was just exhilarated," Steel said. "It was incredible."
"Just being down there with so many amazing musicians was really a good experience for me," Taylor said.
The accolade was extra special for Steel who was selected for All-State two consecutive years.
"I was like, 'Oh my goodness, I can't believe this,' -- especially last year since it was my first time," she said. "We've never had a violinist here make it, and I didn't even think it was possible."
These four students, along with many others, now move on to solo and small ensemble festivals. If they score high enough, they'll head to the state competition in Columbia this April.
If you know a young achiever who is 18 years old or younger and is doing exceptional things, FOX 4 wants to hear from you. Nominate them here.