This is an archived article and the information in the article may be outdated. Please look at the time stamp on the story to see when it was last updated.
KANSAS CITY, Kan. -- J.C. Harmon senior Bryan Curtis isn't your typical high school student. He's overcome a lot and is now revered as a voice for his student body.
Bryan has been the KCK school's drum major for two years now, and he never stops marching.
"Band is what I enjoy. Band is my comfort zone," Bryan said.
He's constantly tapping his feet. It's just something that comes naturally, he said.
Another thing that comes naturally? His self-discipline. He considers himself a very strict person, just like his father.
"He always had a serious face like I always have a serious face," the 17-year-old said.
Bryan's father died in 2005.
"My dad was on his way to work," he said. "It had iced that night. It had also snowed."
His father's car slid into another car. He got out to make sure the woman in the other car was OK.
"On his way back to his car, a 4-by-4 truck came. It slid into my dad's car and threw him on the windshield, and then he went over the bridge and fell down. I'm going to say he fell down 35 feet," Bryan said.
Today, Bryan's dad is his inspiration.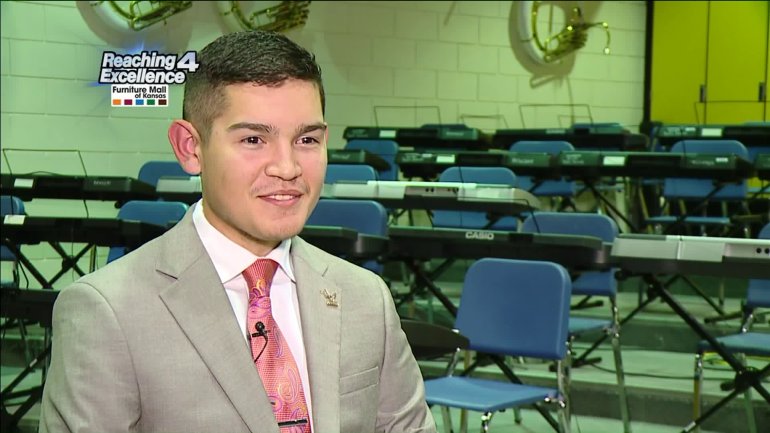 "In everything that I do, with it being band, choir, all my other classes, that he is the reason that I am pushing forward to graduate from high school," the J.C. Harmon senior said.
It's the same high school where his father graduated.
"I love him very much," Bryan said.
And just as Bryan's dad inspires him, Bryan is inspiring his classmates, too.
"Bryan is an amazing student. He's a great drum major. He's a good role model for all of our students," said Weston Cook, the band director at J.C. Harmon.
Cook said Bryan inspires his peers through his drive, determination and actions.
"He always does the right things for the right reasons," Cook said.
And Bryan also dresses the part. Cook said the teen is pretty well-known for his swag.
"I dress to impress," Bryan said.
He owns roughly 20 suits and dozens of ties -- not bad for a 17-year-old -- and he wears a suit and tie to school every single day.
"I always get perceived to be a teacher. I don't know why, but I think it's the shirts and the ties," he said.
After graduation, Bryan plans to join the U.S. Marine Corps, following in the footsteps of his uncle and cousin. He also eventually hopes to work in law enforcement.
"I feel that it is my duty to go and serve in the military," the teen said.
If you know a young achiever who is 18 years old or younger and is doing exceptional things, FOX4 wants to hear from you. Nominate them here.