This is an archived article and the information in the article may be outdated. Please look at the time stamp on the story to see when it was last updated.
LIBERTY, Mo. -- "Extremely talented." That's how one community describes Liberty North High School senior Thadeus Acha.
Acha is a Thespian, an advocate, a public speaker, and an academic all star.
FOX4 caught up with him in the school's theater performing his dramatic interpretation about the struggles some African immigrants face.
"Despite the history, I can make a new history." Acha said. "I am a proud Nigerian Cameroonian man."
Acha, 18, is the son of an immigrant.
His father was born in a village in Cameroon, Africa. His mother is an American and was born in Mexico.
"My parents' drive is just something I have been intimidated by but has also really pushed me to take advantage of the opportunities I have been given, Acha said.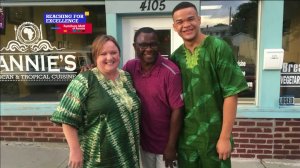 "I have a lot of things I've been given that I can never repay," Acha said. "Being here in this country, in this city, in this school, in this huge theatre that we have. I can`t imagine not using that."
Acha loves theatre and acting. He's been nominated for a few blue star awards for his performances.
"I've been involved in that all throughout high school." said acha. "Guys and dolls," "Seussical the Musical," "The Boys Next Door" are just a few of the performances he's been a part of.
"When he performs he captures the attention of the whole room," said Kim Lenger, a Liberty North High School theatre Teacher. "He's super gifted and super talented. He uses those gifts and talents to build people up."
Acha speaks a little bit of six languages too.
"English, Igbo, Hausa, Odawa, Batibo, and French. I view it as embracing all aspects of my life."
It came in handy when he moved to Africa his sophomore year and lived there for 12 months.
"I lived in Nigeria at the seminary that my grandparents had started," Acha said.
During his 'gap year, Acha also volunteered extensively at an orphanage.
"The kids were so great, so funny. That was probably like 2 or 3 of the most enlightening weeks of my life," Acha said.
Acha is a national merit semi-finalist, the national runner up for his dramatic interpretation for speech and debate, a Missouri scholar and earned a near perfect ACT score.
"I really love being challenged."
"He's excellent, he really is." Lenger said.
If you know a young achiever who is 18 years old or younger and is doing exceptional things, FOX4 wants to hear from you. Nominate them here.