This is an archived article and the information in the article may be outdated. Please look at the time stamp on the story to see when it was last updated.
LIBERTY, Mo. — She's a brilliant mind with an unbelievable voice.
Liberty High's Katherine Vlamis has a 4.0 GPA, is her school's National Honor Society president and serves as Student Council class secretary. The senior is also a songwriter and composer who plans to leave her mark in the world of music.
"That's just something that's so fulfilling to me, being able to just write music," Vlamis said.
She performed the song, "Gone" when FOX4 visited.
"It sounds very serious, but really it's just about me running late!" Vlamis said. "Some of the lyrics from that are created through that idea of disappointing someone for something so simple and just realizing it was a foolish thing to do."
Her music career started more than a decade ago.
"I started writing songs when I was about 5," Vlamis said.
In that time, she's honed her craft, her style and her message.
"I would categorize all my songs as being about growing up and kind of struggling to make sense of who I am. That's the typical teenage dilemma," Vlamis said. "So they're all kind of me venting through my own feelings and trying to make sense of everything."
One thing that does make since to this 18-year-old is the desire to give back to her community.
"We help young single moms get clothes for their kids," Vlamis said.
The Liberty teen is active at her church, North Star United Methodist. She's part of Baby Grace Ministries.
"We supply diapers and food." she said.
The mission is to help moms who need a little extra help.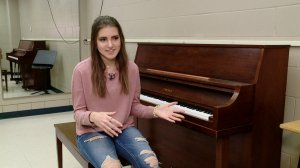 "Giving them the supplies they need to help raise their child adequately," Vlamis said.
The group hosts events throughout the year to help metro moms.
"I personally just like the idea of helping others and seeing the smiles on their faces," Vlamis said.
And the 18-year-old is making an impression on those around her.
"She's an excellent combination of head and heart." Carl Cook said.
Cook is Vlamis' private music instructor.
"She's exceptional," Cook said. "There's always intent behind what she does."
Vlamis calls herself a song writer and one day dreams of becoming a pop star.
"I don't think it's something that you should have to let go of just because it's difficult," she said.
The 18-year-old recently released what's known in the music industry as an extended play or "EP" that has five songs she wrote and produced.
"That's now available on iTunes, Spotify, YouTube," Vlamis said.
She said she plans to release her next album in the spring.
If you know a young achiever who is 18 years old or younger and is doing exceptional things, FOX4 wants to hear from you. Nominate them here.