This is an archived article and the information in the article may be outdated. Please look at the time stamp on the story to see when it was last updated.
INDEPENDENCE, Mo. -- Spend just a bit of time with Fort Osage senior Michael Miller Jr., and you'll see it's clear he wants to work in law enforcement.
The 18-year-old dreams that one day he'll serve his high school as a school resource officer. But working toward that goal hasn't been easy so far.
"It took a lot of hard work to get to where I am today," he said.
Miller was born with a cleft lip that caused a severe speech impediment. He also had a learning disability.
"I had a hard time speaking," Miller said.
He had several corrective surgeries as a baby and had his last procedure just 4 years ago. Everything changed for Miller during his freshman year.
"I signed up for a class, and they said, 'We do not have enough room.' So they put me in debate," he said.
It was a nightmare come true for the Independence teen.
"First day I was sitting there, and then I basically heard from our debate teacher that we have to go to two tournaments," he said. "That basically startled me because I cannot publicly speak to anybody."
At that moment, Miller decided he would rise above his adversity.
"At the beginning, I had a hard time public speaking, and at debate rounds, I did very horrible," he said.
But he kept trying until eventually he became good at it -- well, good might be an understatement.
Miller placed third at a recent competition. He's the captain of the school's debate team and the captain of Fort Osage's "Crime Scene Investigators" group. He's also completed the Missouri State Trooper's Youth Cadet Academy and the Blue Springs Youth Police Academy.
If that wasn't enough to keep him busy, Miller also earned his Eagle Scout award.
"Michael is an amazing kid. He's a great student. He goes above and beyond," said Cory DeVaul, the CSI instructor at Fort Osage's Career and Technology Center.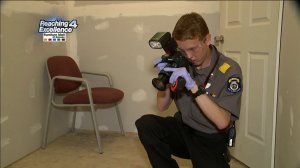 DeVaul called him a leader.
"He will go far in his career," he said.
Miller hopes to be an inspiration to others, showing them if you believe, you can do anything you set your mind to.
"The only way you can get better is by practicing and practicing," he said.
Michael plans to attend a 4-year college and then enter the police academy, following in his father's footsteps.
If you know a young achiever who is 18 years old or younger and is doing exceptional things, FOX4 wants to hear from you. Nominate them here.