This is an archived article and the information in the article may be outdated. Please look at the time stamp on the story to see when it was last updated.
RIVERSIDE, Mo. — He only began playing the trombone four years ago, but a Park Hill South junior is currently the top trombonist in the state of Missouri for his age.
"I wasn't really trying to prove anything to anybody else, but I was definitely trying to prove something to myself," 17-year-old Robert Traphagan said.
In the seventh grade, he picked up the trombone. His freshman year, he made All-State Honorable Mention Band, and by his sophomore year he was third chair in the All-State Concert Band.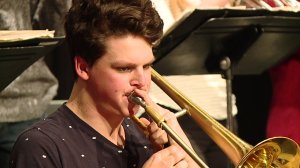 But it wasn't enough.
"For some reason, that lit a fire inside me," the 17-year-old said.
He wanted to make All-State Jazz Band, so back to the drawing board he went.
"I just need to set the bar higher," Traphagan said.
The Park Hill South student spent hours practicing, listening to and studying jazz. He said one of his favorite things to do is sit at home and listen to it.
"My values are always to be reaching for something else," he said. "I'm always trying to further better myself."
Traphagan spent months grinding, performing anywhere he could from hotels to Kansas City jazz hot-spots like the Blue Room and the Gem Theater. After months of pounding the pavement, his dream became a reality.
"I was first in jazz," he said.
The 17-year-old was named lead trombone for Missouri All-State Jazz Band. There's only one seat for lead trombone in the band, and it belongs to Traphagan.
"It was unlike anything else I've ever been to," he said. "It was incredible."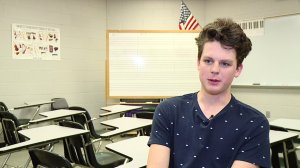 His Park Hill South band director sums up Traphagan's talent in one word.
"Wow. That's all you can really say," said Charles Boyd, associate director of bands and director of jazz studies.
Boyd said Traphagan is a go-getter and doesn't stop until he achieves greatness.
"Unbelievable gift and talent, combined with his work ethic," Boyd said of what makes the 17-year-old stand out.
Traphagan said he's interested in studying performance or jazz history in college and has his eyes set on North Texas College or the University of Missouri-Kansas City.
If you know a young achiever who is 18 years old or younger and is doing exceptional things, FOX4 wants to hear from you. Nominate them here.