This is an archived article and the information in the article may be outdated. Please look at the time stamp on the story to see when it was last updated.
LIBERTY, Mo. — The 240 ton transformer has reached its destination at the Nashua Substation near Smithville, Mo. By all accounts the planning and preparation paid off with a smooth move from Liberty to its final location.
As of early Friday morning, I-435 had a lane closed in each direction between Woodland and 169 Hwy. Crews were cleaning up the third of three temporary median crossovers. Interstate 435 on the north side of the interstate was expected to fully reopen by 7 a.m.
Kansas City Power & Light said the new transformer will provide power to Kansas City customers. It was shipped by train from Mexico to Liberty, where it had been waiting for about two weeks.
The truck that hauled the transformer had 36 axles, intended to distribute the massive weight of the transformer. The transport vehicle was actually two trucks; one pushed the weight while the other pulled it. To put that into perspective, according to The Truckers Report, an average 18-wheeler semi has five axles and weighs 80,000 pounds itself.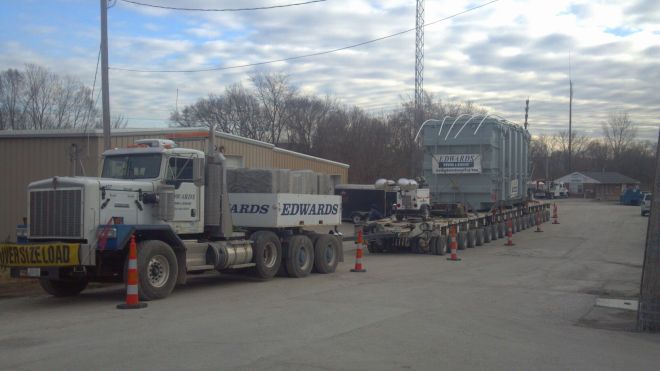 Because of the transformer's massive weight and size, the vehicle was not allowed to go over bridges. Crews had to navigate around overhead signs and overpasses. Watch the video below, as FOX 4's Rob Collins tracked the transformer's progress.
The transformer was moved by Edwards Moving and Rigging.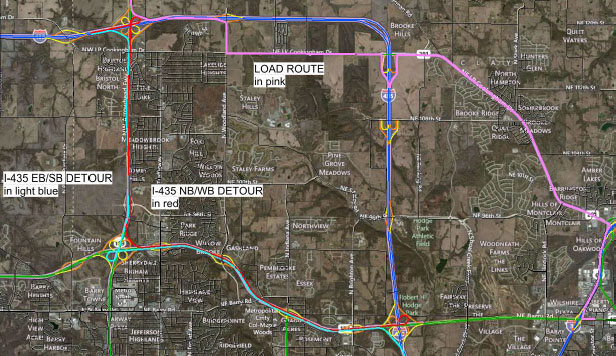 Earlier coverage