This is an archived article and the information in the article may be outdated. Please look at the time stamp on the story to see when it was last updated.
KANSAS CITY, Mo. — An investigation into a possible electrical issue caused the KC Streetcar to temporarily stop service again on Wednesday for about four hours.
According to a tweet from KC Streetcar, the electrical issue was under investigation as of 11:33 a.m., and service was delayed. Service resumed at about 3:00 p.m.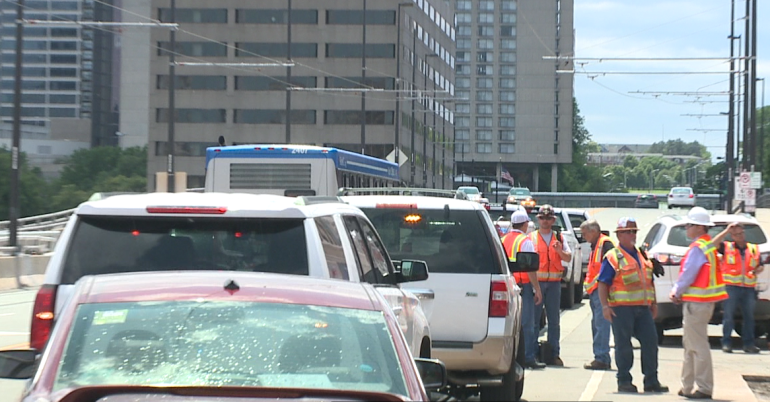 "We noticed one of the poles was a little bit hot to the touch so we wanted to just investigate that further before we brought any passengers through there. We didn't see that it was anything too concerning but we wanted to be safe since we are new here," said Donna Mandelbaum, marketing and communications coordinator for Kansas City Streetcar.
The poles she is referring to are the poles that hold up the overhead system of wires that power the streetcar.
"There is a construction project going on in this area and we noticed some digging and there might have been some interference with some of our electricals and so we're just actually taking precautions at this time. We wanted to be safe with our passengers on the streetcar so we did halt service a little after 11 today," said Mandelbaum.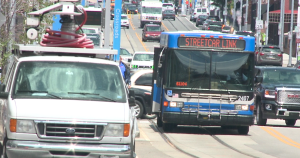 She said a 'bus bridge' would supplement the streetcar until the investigation is complete and if necessary, repairs made. Those buses were identifiable because they had a sign on them that said, 'Streetcar Link.'  The 'Streetcar Link' bus is free.
On Monday,  KC Streetcar service was also suspended after it needed a tow when it ran off the track shortly before 4:00 p.m.
One of the trains had trouble on the tracks near Union Station. Service resumed at about 9 p.m.
A spokeswoman told FOX 4 Monday's incident happened in an area with a switch in the tracks and crews are on scene trying to repair and restart. There were about 10 passengers on board at the time.
Look for more on Wednesday's cause on FOX 4 newscasts and updates on fox4kc.com.
RIDER ALERT #kcstreetcar service temp delayed. Report of electrical issue. Team is investigating. @KCMO

— KC Streetcar ❤️🚊 (@kcstreetcar) May 25, 2016
RIDER ALERT @RideKCTransit bus bridge to run the route for all #kcstreetcar riders

— KC Streetcar ❤️🚊 (@kcstreetcar) May 25, 2016
RIDER ALERT @RideKCTransit buses will supplement #kcstreetcar route while event is being investigated. Will update here.

— KC Streetcar ❤️🚊 (@kcstreetcar) May 25, 2016