KANSAS CITY, Mo. — Mackenzie Nicole's music career is a bit of an anomaly.
"My first recorded feature was when I was nine years old with Tech N9ne and Three 6 Mafia, and I've been doing features ever since then," Mackenzie said.
Mackenzie has become a powerhouse for Kansas City, Missouri-based Strange Music, Inc., a record label founded by Tech N9ne and Travis O'Guin in 1999. She said joining the music industry at a young age has played a role in her development as a person.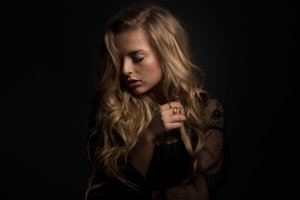 "Growing up in this environment ages you," Mackenzie said. "I was never a kid. I was a small adult. That definitely has an impact on your mental health because, when you age more quickly, you're forced to confront a lot of issues."
Mackenzie said she wrote her newest album," Mystic," set to debut in 2019, after going though one of the worst periods of her life. The album centers on her own struggles with mental health and her decision to seek out medical treatment.
"I knew I had an obligation to discuss what I had went through," Mackenzie said. "My album became this autobiographical discussion of mental health and stages of mental health. For me the only way to understand or to be understood is to articulate that. This album helped me do that."
After taking time away from the industry to focus on health, the classically trained opera singer is back and ready to debut a sound that is more in tune with who she is now.
"I feel like I'm coming into my own, where I get to bring my opera with me into a genre rather than leave it behind." Makenzie said. "That's something I think you can hear in my new album. I think it's something so different than what I've done before… and miles away from my old album."
FOX4 wants to remind you that you matter. No matter what you're going through, there is someone right now who can talk to you if you're struggling with mental health. You can call the National Suicide Prevention line at 1-800-784-2433 or find more resources, here.
Join Crazeology on Facebook and get more podcasts on the FOX4 Podcasts page.
Find more episodes of "Crazeology," here.
Subscribe to this podcast on Spotify, Google Play or Switcher, here.