KANSAS CITY, Mo. — Independence, Missouri-natives Madisen and Ruth Ward has made a name for themselves as the band "Madisen Ruth and the Mama Bear," but the origin of the mother-son duo goes back even before Madisen was born.
"I've always loved music," Ruth reminisced about her origins as a musician. "I started playing guitar when I was 19, and then I stated writing, basically doing what he (Madisen) does…. and I started playing in coffee shops."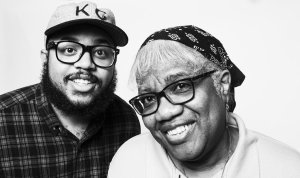 After taking a short break from music to raise her three kids, Ruth was back in coffee shops in the Kansas City Metro Area, performing just as Madisen was old enough to start enjoying music himself. After Madisen learned how to play the guitar, he would join his mother on stage, and the band started to form.
"We would do originals with him, and I'd do my covers," Ruth remembered about the first shows they played together. "Eventually, it kind of morphed into what it is now."
Since their original album, "Skeleton Crew," the band has put out an EP, called, "The Radio Winners." In it, the duo's unique sound and lyrics have developed from the original album, and Madisen attributes that to the team he worked with and the desire to take their music to the next level.
"They wanted to take the creative instincts we already had and expand on that," Madisen said. "It was a lot more instrumentation, orchestration, and the first time I ever wrote with co-writers before, but even they let me take the lead. It was a cool and refreshing experience."
The band isn't sure what will happen when they decide to record their next album, but one thing is clear. Madisen Ward and the Momma Bear will continued to put out quality music, staying true to their roots.
Listen to more incredible musicians in other episodes of the Crazeology podcast.
Join the FOX4 Podcast Facebook page, and stay in the loop with the latest episodes.