This is an archived article and the information in the article may be outdated. Please look at the time stamp on the story to see when it was last updated.
30 MINUTE OR LESS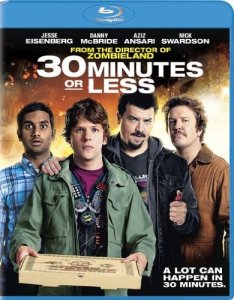 RUSS:  Jesse Eisenberg stars in the raunchy comedy "30 Minutes or Less," about a pizza delivery guy forced to rob a bank by a pair of bungling lowlifes, played by Danny McBride and Nick Swardson.
SHAWN:  "30 Minutes or Less" struggles to find its comedic groove. Much of this sort of slacker comedy just isn't funny. There are three sets of characters and all they do the entire movie is swap obscene insults.
RUSS: Crude, puerile and moronic, "30 Minutes or Less" is as bungling in it's execution as its antagonists. it's hard to believe that this misfire was directed by the same guy who gave us "Zombieland."  As I was watching, all I could think was, I wish this were 30 minutes or less.
SHAWN: Yes, "Zombieland" was refreshingly smart and extremely funny. "30 Minutes or Less" is stale and stupid. The extras include deleted scenes, outtakes, and "Blowing Up with the Cast & Crew of 30 Minutes or Less" where the cast and crew discuss their experiences on set and behind the scenes.The Blu-ray disc contains everything included on the DVD, plus a picture-in-picture commentary track with the entire cast as well as the featurette, "The Perfect Crime: Action & Comedy in '30 Minutes or Less,'" a look into the car chases, flamethrowers, and gun play that make this film not only hilarious but awesome. Great stuff.  Just wish the movie was funnier.
RUSS: 2 out of 5 Popcorn Bags
SHAWN: 2 out of 5 Popcorn Bags
OUR IDIOT BROTHER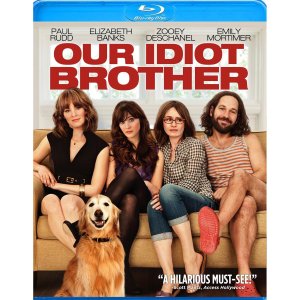 SHAWN: "Our Idiot Brother" wants to be a feel good story. Think "Little Miss Sunshine" but not nearly as good. The movie does have a delightful quirkiness to it, with Kansas City native Paul Rudd's performance holding it all together. He's good. Just wish his character was more of an idiot. Not the best movie you'll ever see but not a complete waste of time either. There aren't a lot of supplements here, but what's included isn't really half bad.
The most notable feature is the commentary by director Jesse Peretz who talks of the shoot, working with such a well-established and diverse cast and the story in general. There are also a handful of deleted scenes including a very different alternate ending.
there's also the obligatory "The Making of 'Our Idiot Brother'" which gives a few behind the scenes shots and some brief interviews with the cast and crew.
RUSS: Did Not Screen
SHAWN: 3 out of 5 Popcorn Bags