This is an archived article and the information in the article may be outdated. Please look at the time stamp on the story to see when it was last updated.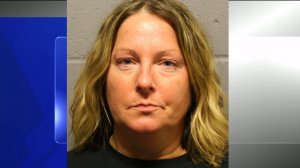 EUDORA, Kan. — It took a Douglas County jury two days to decide that a 44-year-old day care employee was responsible for the death of a 9-month-old Eudora boy.
Carrody Buchhorn was found guilty of second-degree murder Thursday in the death of little Oliver Ortiz.
In September 2016, authorities were called to Sunshine Kids Group Daycare, an in-home child care, where they found Oliver unresponsive.
During the trial, the state supplied evidence showing that Buchhorn caused blunt force trauma to the child, which ultimately lead to his death. An autopsy revealed Oliver suffered a fracture to the back of his head as well as bruises.
Buchhorn told police that she was one of two people working at the day care the day the 9-month-old died. Investigators determined she was the last person to see the infant alive.
Buchhorn faces up to 10 years in prison. Her sentencing is scheduled for Aug. 31.