This is an archived article and the information in the article may be outdated. Please look at the time stamp on the story to see when it was last updated.
KANSAS CITY, Mo. — Pastor Darryl Burton ministers to thousands every month.
"This is not only my passion and my mission, but this is my purpose," Burton said.
He takes nothing for granted after spending years behind bars for a crime he didn't commit.
"I was sent to prison in 1984, 22 years old for the crime of capital murder," Burton said.
Originally sentenced to life without parole, Burton was exonerated after spending 24 years at the Missouri State Penitentiary.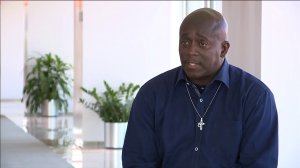 "I would have never gotten out except for an organization to help free innocent people. They took my case after I had written them for 10 years. They finally took my case 10 years later, and 8 years after that they got me exonerated and proved that I was innocent," Burton said.
Dan Clark helped lead the effort to set Burton free.
"We went back through all of the witness files and the case files and started tracking people down," Clark said.
Burton said after getting out he struggled with homelessness and joblessness. Now, he's launching a new effort to help other wrongly convicted prisoners become free and reintegrate.
"Miracle of Innocence, it's an organization that's coming online to help innocent people get out of prison and provide them comprehensive care when they come home," Burton  said.
He said exonerated prisoners don't get money from the state unless there is DNA evidence proving their innocence. Furthermore, Burton said most reintegration services are geared toward those who've served time for crimes they did commit.
Miracle of Innocence will fill that void.
"Help them get situated with housing and with transportation and identification and some jobs and occupations. These are the things that I needed, and it took me a while to get there. This is what they're going to need and also to be a mentor for them when they come home because I've been there," Burton said.
What sets Miracle of Innocence apart from other organizations offering similar services is that it will provide more comprehensive re-entry services and that it's led by an exonerated inmate.
"He's got an insight to it that very few people really have," Clark said.
And for Burton , what better way to celebrate 10 years of freedom than to help other innocent people become free as well.
"From day one when I was released, I got on this crusade and this campaign to do something about the criminal justice system and about innocence. So now I'm actually physically putting my face and my resources and my talents and gifts and efforts behind this huge problem," Burton said.
Miracle of Innocence will host a celebration and fundraising gala on Sept. 8 at Church of the Resurrection in Leawood. That event will also serve as the official Miracle of Innocence launch party. Click here to learn more about Miracle of Innocence.