This is an archived article and the information in the article may be outdated. Please look at the time stamp on the story to see when it was last updated.
NORTH KANSAS CITY, Mo. -- Friday marked the final day for the North Kansas City Farmer's Market for the season -- two months early because of the extreme drought.
The North Kansas City Business Council said this is the first time this has ever happened.
FOX4 spoke to a local farmer about how Mother Nature is taking a toll on their livelihood.
"Just a whole bunch of factors combined, and that`s what farming is. Some years you just deal with whatever you get," Maggie St. John said.
She said it's not just this year but she, along with many other farmers, are just trying to make do season after season lacking rain.
"We`re in a really, really severe drought in this area," St. John said.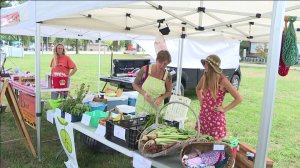 The drought led to a limited amount of vegetables.
"It`s difficult to sell naturally grown, locally grown, organic produce at prices that sustain the farm," St. John said. "The drought just plays havoc with all of that."
"That`s sad. I don`t normally wake up early enough for this kind of stuff, and to see them out here like this is pretty cool for me," said Alex Holsted, a farmer's market customer on Friday.
Farmer's market visitors said it's a shame because farmer's markets are a more personal shopping experience, and it brings people into the neighborhood who might not normally stop by.
"Being able to talk to the people that aren't big businesses that don`t really care -- they just slap a price tag on things -- but being able to come out here and talk to these people is a really cool experience," Holsted said.
"With the whole climate change this year, we didn't really have a normal spring. We had maybe a week of spring. Then it went straight to summer, straight to 90- and 100-degree weather, and plants don`t like that so much," St. John said.
St. John said this weather brings out the bugs, and there's isn't enough moisture in the ground, so the soil is parched.
"If we`re going to have a product, we have to use city water," St. John said, "which makes prices go even higher."
She said you can only charge so much, and it's really hurting farmers' bottom line.
"Kind of what we`re doing now is going to work side jobs to make ends meet," St. John said.