This is an archived article and the information in the article may be outdated. Please look at the time stamp on the story to see when it was last updated.
OVERLAND PARK, Kan. — The bodies of two people were discovered late Tuesday night/Wednesday morning in two different locations, and Wednesday afternoon police confirmed they are that of a missing 18-year-old woman and the man later seen driving her car after her disappearance.
Mikayla Norris' body was discovered at Hillcrest and 83rd Street.  Police went there to search after receiving a tip about a Facebook post in which a man reportedly said he had dumped her body there.
The post appears on a profile from someone matching the description of the suspect — 22-year-old Kareem D. McCoy-Lee. It said: "Body across from 8503 hillcrest rd, damn gun jammed."
"After an extensive search by land and air, a body has been located in a wooded area," said Darin Snapp, Kansas City, Mo. police spokesperson.
McCoy-Lee was found dead in Liberty behind Academy Sports from a self-inflicted gunshot wound inside Norris' car.
"We are investigating the deaths as possible murder/suicide," Snapp said.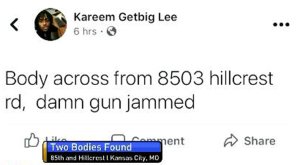 Late Tuesday night, FOX 4 received a tip about the Facebook post. FOX 4's Robert Townsend went to the location, and found police searching the area with flashlights.
Norris, of Overland Park, didn't show up for work Monday at Jack Stack Barbecue in Overland Park. A flyer from Kansas Missing and Unsolved said she was believed to be going to a party Sunday in Independence and her last text said she was hanging out with friends.
Later, a man later identified as McCoy-Lee was spotted driving her car.
After seeing reports about the missing woman's car, a witness took pictures of McCoy-Lee filling up the gas tank at a Gladstone QuickTrip.
But the witness quickly figured out it wasn't Norris filling up her car at the gas station, and McCoy-Lee didn't seem happy about her trying to see if anyone else was in the car.
"In the process of doing that, the person who was driving the vehicle at the time got suspicious and started approaching our witness and acting like maybe he had a gun," Captain James Sutterby with Overland Park Police said.
Surveillance photos show the driver of that car paying for gas with cash. He was in the store for only about 15 seconds. And police say there's no indication Norris was in the car.
The suspect who police now believe is dead but whose name they are not releasing, was also suspected in a shooting Tuesday of his ex-girlfriend. Police believe he shot her in her car. Look for more on that on Fox 4 News at 5 & 6 and on the fox4kc app.