This is an archived article and the information in the article may be outdated. Please look at the time stamp on the story to see when it was last updated.
KANSAS CITY, Mo. — Facebook has launched new tools that help connect suicidal users with a counselor.
According to Facebook, 800 million people use Facebook world-wide. According to the CDC, approximately 100 people commit suicide every day. in America. Facebook hopes to reduce that number by connecting at-risk users with a counselor. And they're doing it with the help of the National Suicide Prevention Lifeline.
How it Works
If a user sees a post in their news feed from a friend that raises a red flag, the user can click the X next to the post to "Report/Mark as Spam." Next, the user would click "Report." A box like the one below will appear, and the user would then choose "Violence or harmful behavior." A drop-down menu will appear that lists "Self-harm" and "Suicidal Content" among others.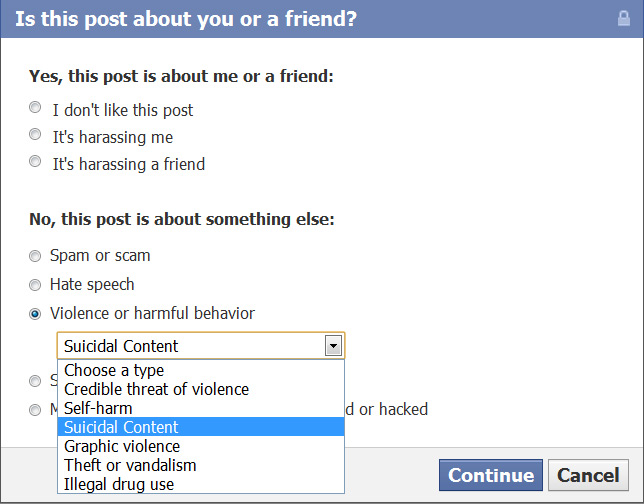 Facebook also allows users to help a friend by reporting them to Facebook's Report Suicidal Content page. When Facebook receives a report, a safety team reviews the content and, if warranted, will send the at-risk user an email that includes Lifeline's phone number (1.800.273.8255) and a link to start a confidential chat session. Facebook also notifies the person who filed the report, letting them know they have responded.
Several people have used Facebook to announce their plans to end their own life. In September 2010, Rutgers University freshman Tyler Clementi wrote: "Jumping from the gw bridge sorry." He later jumped to his death.
On Christmas day in December 2010, a British woman, Simone Back, wrote: "Took all my pills be dead soon bye bye everyone." She was later found dead in her apartment.
Facebook hopes its new tools will help prevent suicides. However, Facebook still urges users to contact police if harmful behavior seems imminent.