This is an archived article and the information in the article may be outdated. Please look at the time stamp on the story to see when it was last updated.
LIBERTY, Mo. — A juvenile now faces charges and legal proceedings in Clay County Family Court, related to the serious beating of a fellow student at Liberty Middle School.
Liberty police investigated the assault of Blake Kitchen, 12, a student who has Asperger's syndrome, a form of autism. Kitchen was treated at the hospital after the beating, which he says started because he asked his attacker to let him sit in his usual spot at the cafeteria table. Instead, according to his mom, Blake received a fractured jaw and skull, and damage to his ear.
"It's a long road," said Destiny Kitchens. "We've got doctors appointments upon doctors appointments to learn about hearing and TMJ with the fractured jaw."
Police say they concluded their investigation on Wednesday and forwarded the case to Clay County Juvenile Court. The student was arrested on the same day the report about the beating was filed. The suspect's exact age was not released.
Destiny Kitchen said she never thought "good" could come from such a sickening situation, but she's overwhelmed with gratitude for all the support they've received.
"The amount of calls, emails, their stories of them trying, their children being bullied," she said.
Strangers and friends have come forward with ways to help.
One mother and friend of Destiny's says her nine-year-old daughter has also felt the pain of bullying. Anita Cates said she comes home from school crying and feels better when she rides motorcycles.
That turned into an idea, which she hopes she can pull together for April.
"I thought it would be a good idea to bring biker organizations from all around the nation to do a bike run and help raise money to help Blake and the family and also to just raise awareness nationwide," said Cates, who has already heard from a group in Oklahoma.
Recovering today in his living room, Blake says he'd really like a pair of Google Glasses and said his favorite colors are red and gold.
Blue, though, is the color the community is wearing to show their support for Blake. "Blue for Blake" has become the slogan to encourage the middle schooler as he recovers.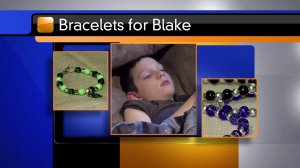 Tom Clarke doesn't know the Kitchens personally, but when he learned about Blake last week, he decided he'd take orders for the bracelets he makes. The bracelets come in blue or black and he says all the money earned will go to the boy's family to help pay for medical expenses. Clark first started making the bracelets to give him a hobby when he's was dealing with cancer in 2008.
"That`s basically what I make my jewelry for, for fundraising and to help others out. Then I got more involved in it and asked anybody if they`d be interested in the anti-bullying bracelets and it took off from there. (laughs) Now I can`t keep up," Clarke said.
Click here to order through Tom Clark's Etsy store.