This is an archived article and the information in the article may be outdated. Please look at the time stamp on the story to see when it was last updated.
KANSAS CITY, Mo. — He was only 18 years old, full of so much promise and excited about his future. Sadly, a bullet ended it all for honor student Antonio Jones.
"He was just a good kid. He was more than just my brother. He was almost like my son. I took care of him," Jones' sister Teaonna McDaniel said Thursday.
Just two months ago, the Kansas City teen stood beside his principal and proudly showed off his diploma. The straight A student was so excited to graduate from Central Academy of Excellence.
"He had so many achievements. He was a member of the National Honor Society. He graduated in the top five of his class, and he also really liked playing on his school's basketball team at one time. We were all so proud of him," McDaniel said.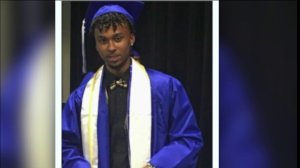 Jones lived in Kansas City with his grandmother. Relatives said on Monday evening Jones left home and was going to meet friends at Swope Park Recreation Center to play basketball.
However,  the young honor student never made it.
Police say they arrived at East 59th and Swope Parkway and learned someone shot Jones while he sat in his sister's car. He later died at a local hospital.
"It's like I want to be angry, but I'm just sad. I'm just sad because he's gone, and he's not coming back," McDaniel said.
"It's not fair that someone who only wanted to love his grandmother and be there for his family and make a future for himself is just ripped away from us," said Jones' cousin, Marcus Garlington.
Jones could hardly wait to trek off to Metropolitan Community College-Penn Valley in two weeks and pursue his lifelong dream: become an accountant.
Instead of planning for college, Jones' family is now planning his funeral.
"He didn't have to die, and I don't know what he could have possibly done to deserve this," Garlington said.
"He was just a good kid. He always put others first. He was an angel," McDaniel said.
Kansas City police don't have a clue as to why someone shot and killed Jones. Investigators are urging anyone who has information to call the TIPS Hotline at 816-474-8477.