This is an archived article and the information in the article may be outdated. Please look at the time stamp on the story to see when it was last updated.
KANSAS CITY, Mo. -- For the second day in a row, family members were looking for a young boy who left home Saturday morning and hadn't been seen since. Now the family is saying 11-year-old Alex-Zander DeVore has been located.
On Sunday around 6:30 p.m. family members of the boy told FOX 4 Alex-Zander had been located and were waiting to be reunited with him. Shortly before 7 p.m. the family left with detectives to be reunited with the boy. They said he was discovered near Spring Valley School on 83rd Street in Raytown, in a backyard playing with friends.
Family say a volunteer with a K9 dog was able to locate the little boy in area of Spring Valley School - he was w/ friends in a backyard

— Molly Balkenbush (@MollyFox4KC) September 28, 2015
The little boy's mother tells me he was found at Spring Valley School on 83rd street in Raytown #FOX4KC

— Molly Balkenbush (@MollyFox4KC) September 27, 2015
Family of Alex-Zander DeVore just left home to go be reunited with him. Family say the boy is okay, just scared right now.

— Molly Balkenbush (@MollyFox4KC) September 27, 2015
Earlier in the day Sunday family members and even strangers were looking for any evidence of where the boy might have gone.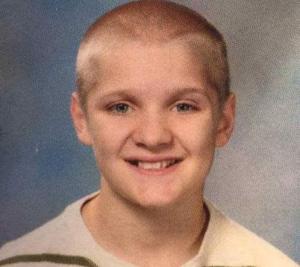 His family made a bank parking lot near 87th and Blue Ridge Boulevard their headquarters on Sunday. They passed out hundreds of fliers to drivers stopped at the intersection there. The boy had disappeared Saturday after he was last seen around lunchtime at the McDonald's at that same intersection.
"If we're falling apart, no one knows what to do; we don't know where to go, people are confused. So we just want to stay put together as much as possible," said Alex-Zander's mother, Trina Merriott.
A clear focus on finding her son is what kept Merriott from crumbling.
Eleven-year-old Alex-Zander disappeared around 10 a.m. Saturday, after his father's family last saw him doing chores in the backyard.
Surveillance video taken at the McDonald's, near 87th and Blue Ridge Blvd., caught the boy around 12:30 p.m., without a shirt on, after accepting a sandwich from a man in a Royals hat there. Police don't think that man did anything more than buy the boy lunch, but no one seemed to know where DeVore went from there.
Police say his father and stepmother reported him as a runaway on Saturday, and that he left home upset. His mother said other witnesses have told her he seemed calm, though his sister did say he packed a bag Friday night.
"It is possible that he left the house on his own, yes, but after all these people seeing him, he's not a child that stays out past dark, he doesn't like to be outside past dark. Something happened," said Merriott.
And that was what  searchers were setting out to uncover.
"Somebody knows where that boy is. So we need to find him," said Gary Barrett, who on Sunday was helping look for Alex-Zander.
Barrett searched the nearby woods earlier in the day.
"Footprints, clothes, shoes if he had them on, any kind of traces we can find of him," he said.
Dozens of people hung signs, stopped drivers and passed out Alex-Zander's picture with information about when and where he was last seen.
His mother said the overwhelming support is what kept her believing her boy would be found, and what kept her focused on the best case scenario.
"My gut tells me he's playing somewhere, swinging, or he's found a friend to play football with, and hopefully that's the case," she said. "Then we can just scoop him up and take him home."
Merriott said the 11-year-old had a fresh haircut from Wednesday, was wearing black basketball shorts, and red white and blue Nike tennis shoes. Alex-Zander's family says he does suffer from ADHD and is on medication.
Previous coverage: