This is an archived article and the information in the article may be outdated. Please look at the time stamp on the story to see when it was last updated.
FORT SCOTT, Kan. — Friends and loved ones gathered Thursday night in Fort Scott, praying not just for the family of Mikayla Norris, but also for the family of the man who allegedly murdered her.
Norris, 18, graduated from Fort Scott High this past summer where she was a cheerleader and a top tennis player. Friends said she then moved to Kansas City with her mom where she took a job as a hostess at the Overland Park Jack Stack Barbecue.
READ MORE: Man who allegedly killed 18-year-old woman then himself nearly killed his ex-girlfriend too
Friends remained close with Norris through Snapchat. They said they almost immediately knew something was wrong when she stopped posting after leaving her job Sunday night.
A Facebook post by her suspected killer, Kareem McCoy-Lee, led police to her body. He had been spotted earlier in the day filling up her car at a Gladstone QuikTrip. Police said he later killed himself in Norris' car behind the Liberty Academy Sports.
Mike Norris, Mikayla's father, posted on Facebook Wednesday, urging people to pray for strength for the friends and family of the man he called "her abductor." Kansas City Police said Wednesday they were still investigating but don't believe Norris was abducted.
"He had troubles, and we have to be able to pray for them as well if we expect them to pray for us and give us strength," Mikayla's friend Darrick Green said.
"We have to be strong for the Norris family and remain family through this and then I think we can move on," another friend, Richelle Rodriguez said.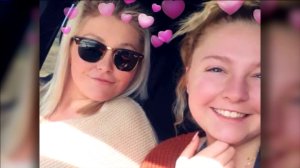 Former classmates wrote messages on balloons Wednesday night before releasing them to the sky.
Norris would have turned 19 on Friday. Former classmates said they had planned to go to Kansas City on Thursday to see a play with her for her birthday. Instead they'll remain in town to support the family as they prepare for her funeral.