This is an archived article and the information in the article may be outdated. Please look at the time stamp on the story to see when it was last updated.
KANSAS CITY, Kan. — The mother and sister of two brothers killed Monday, March 7 at a home in Kansas City, Kan., say the blood of Austin and Clint Harter is not only on their killer, but also on the Department of Immigration and Customs Enforcement (ICE).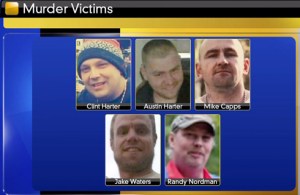 Pablo Serrano-Vitorino, 40, is charged with the murders of the Harter brothers,  Mike Capps, and Jake Waters, who were all gunned down at the home in the 3000 block of South 36th Street Monday night.  Serrano-Vitorino is also charged with the murder of a man in New Florence, Mo., where Serrano-Vitorino's truck was found abandoned and where he was captured early Wednesday morning just after midnight.
Austin Harter, 29, and Clint Harter, 27, leave behind their mother Sandra Harter and their little sister, Alicia Harter, 21.
"I'm still waiting," Alicia Harter said, explaining that she still expects her brothers to come walking around the corner.
"We had each others backs all the way. Sometimes I wish I was there so I could step in front of that bullet," she said.
While they are relieved Serrano-Vitorino is in jail, they can't help but be angry that he was in the United States illegally.
Serrano-Vitorino, a Mexican-national, was deported in 2004 after reportedly making a threat. At some point, he returned to the United States illegally. Then, in June 2015, he was arrested in Wyandotte County for domestic battery.  Wyandotte County says it sent ICE a query about Serrano-Vitorino's legal status and ICE is supposed to respond within four hours. However, according to Wyandotte County, ICE never responded and Serrano-Vitorino was released.
"This wouldn`t be happening right now. This would not be happening, and we would be one happy family," said Austin and Clint's mother.
In September 2015,  the Johnson County Sheriff's Office says Serrano-Vitorino was fingerprinted in Overland Park, but he was released because of an error by U.S. Immigration and Customs Enforcement. ICE says it erroneously issued a detainer to the Johnson County Sheriff's Office, instead of to the Overland Park Municipal Court.
"Why'd you make that mistake? Why you got to do that to me? Why you got to do that to the people?' We hurt.. You don't understand," said Alicia Harter.
The Harters say the mistakes ruined the families of five innocent people.
"They might not be with me now but they are in my heart and they will always be there. They might be grown but they will always be my babies," said Sandra Harter.