This is an archived article and the information in the article may be outdated. Please look at the time stamp on the story to see when it was last updated.
KANSAS CITY, Mo. – A family is searching for their beloved pet after she escaped during a house fire.
Michelle McPherson's family home, which was located at 1706 NE 68th Terrace in KCMO, recently burned down and was reportedly a complete loss.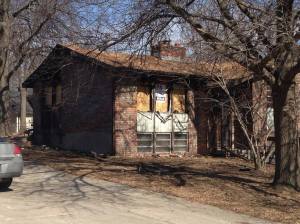 Not only did the fire claim the life of one of the family's pets, but another pet, a half cocker spaniel, half golden retriever named Shiloh, has gone missing as well, believed to have been spooked by the fire. The family has been spending the last few days frantically searching for their lost dog.
McPherson told FOX 4 on Wednesday that friends and family have put up several missing pet flyers in the Gladstone area, but unfortunately the majority of them have been taken down. She said they have been driving all around the metro following possible leads, but have so far not had any luck finding their furry family member.
A friend of the McPherson's wrote into FOX 4 saying the family is desperate to get the word out about their missing loved one, and is asking anyone who has seen Shiloh to please call Michelle at (816) 210-3344, anytime day or night.
McPherson described Shiloh as timid and afraid of people. She is not micro chipped but was last seen wearing a purple collar with tags.
The family is offering a $200 reward to anyone who helps bring Shiloh home.