This is an archived article and the information in the article may be outdated. Please look at the time stamp on the story to see when it was last updated.
KANSAS CITY, Mo. — Marquise Ellinburg was just 16 years old when he was killed Tuesday morning. His grandmother said he was the youngest of four and a sophomore at Ruskin High School.
Now, the Kansas City grandma and her family are just in shock. No one can believe they're suddenly mourning the teen.
"We are all just in a lot of pain right now. It's so hard," Ellingburg's grandmother said by telephone Tuesday after she heard about her grandson's death.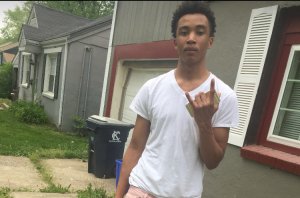 Shortly after 11 a.m. Tuesday, a caller heard gunshots and a disturbance inside a house near 113th and Corrington in south Kansas City. Police say the person then called 911 after finding Ellinburg bleeding and lying on the ground in front of the house. The boy had been shot in his leg.
Paramedics rushed the teen to the hospital where he later died while in surgery.
"We just want to know why did they shoot and kill my grandson. We're looking for answers, and right now we don't have any," the boy's grandmother said.
Relatives tell FOX4 he didn't live in the KC home where he was shot, and they don't know why Ellinburg was there.
On Tuesday evening, a KC police spokesman couldn't confirm whether officers had been called to the home before. When a FOX4 crew stopped by the residence, lights and a television set were on inside and a dog was barking, but no on came to the door.
As of right now, police are still looking for the shooter and a motive for the crime.
Anyone with information on this is asked to call the TIPS Hotline at 816-474-TIPS or the Homicide Unit directly at 816-234-5043.