This is an archived article and the information in the article may be outdated. Please look at the time stamp on the story to see when it was last updated.
KANSAS CITY, Mo. — A  family is unhappy after learning that the driver who struck and killed their loved one may spend only four months behind bars.
The mother of Anthony Saluto, 32, believes victims' families deserve better.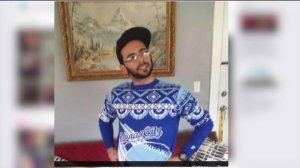 Saluto was riding his bike west on Independence Avenue in April of 2016 when prosecutors say a car traveling fast, veered into his lane and hit him.
32-year-old Joseph LaSala pleaded guilty to involuntary manslaughter in the case. LaSala is accused of being high on drugs when he hit Saluto and then drove away from the crash scene.
Investigators determined the car was traveling more than 47 miles an hour, where the speed limit is only 35.
As part of a plea agreement, Judge David Byrn sentenced LaSala to 7 years in prison. However, if LaSala doesn't screw up during his first four months behind bars, he'll be released and placed on probation for five years.
"When you go out and kill someone, you take their life away. That's for good," said Lorrie Brown, the victim's mother. "That's for real. I will never see my son Anthony again. My sons will never see him again. Their children will never know him. You know, and he's still out there. He's still living his life. He's still doing whatever it is he feels like doing."
After sentencing, LaSala's mother told reporters that surveillance video shows another car striking her son's car, causing it to swerve into Saludo. Since there was no trial, that video has not been presented for the public to see. A law enforcement source tells FOX4 that investigators did not find any such video.
Cynthia LaSala claims her son's life has been changed forever too.
"It's a terrible tragedy, because what people don't understand, the person on the other side of this also loses," Cynthia LaSala said. "I have lost my son. He's not the same person. He has PTSD. (post traumatic stress disorder) Bicycles scare him to death. I wasn't there and the bicycles scare me at this point."
The cycling advocacy group, BikeWalkKC, called the sentence "woefully inadequate," and says it will continue working to establish more protections for vulnerable road users.