This is an archived article and the information in the article may be outdated. Please look at the time stamp on the story to see when it was last updated.
PARKVILLE, Mo. — It was a somber occasion Tuesday night filled with tears and hugs among friends and family who are still in shock over a murder-suicide in Parkville.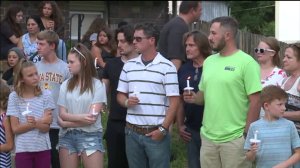 The shooting that left four people dead happened Sunday night in the upscale neighborhood of Thousand Oaks.
Friends, neighbors and family members gathered to honor the life of Maggie Girard. She was shot and killed Sunday night while at a family dinner with her ex-husband, Doug Pauling; his mother, Sharmalee Pauling; and Sharmalee's husband, Carl Deruyscher.
Girard's family has flown in from all over the U.S. and still cannot believe this tragedy.
"It is not easy. We are still trying to wrap our minds around it. It is nothing you could ever plan for or imagine," said Shane Davidson, Girard's cousin. "I think everything will start to settle in, and that is probably when the more difficult time and just trying to make sure we are strong for Maggie's daughter, Bella."
Bella is Girard and Pauling's 14-year-old daughter who was at her grandmother's house during the massacre. She told police that her dad tried to shoot her, too, but she got away.
Bella was Girard's world, her friends said.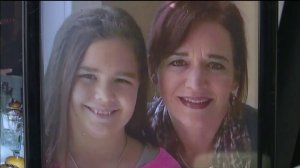 Emily Smith said she met Girard when she hired her to clean her house. It was supposed to be a one-time thing.
"She turned out to be this amazing person in my life, and she ended up working for me for about 7 years," Smith said.
Girard also worked for Debbie Eidsness, who was diagnosed with breast cancer in October. She said during one of her darkest times, Girard stuck by her side.
"I said, 'Don't come. My house is a mess,' and she said OK." Eidsness said of one particularly rough day. "I walked in the door from chemo, and my house was spotless, and she just left a note. She knew what I was going though. She would have done anything for me."
Story after story about Girard's kindness and selflessness was told at the vigil for a woman who always made everyone smile.
"When she talked, she was a comedian. Sometimes when she talked, it was very hard to follow her stories because she would have so many stories and get so excited you did not know what direction she was going," Davidson said. "She was happy no matter what the situation."
Girard will be laid to rest June 15 at Platte Woods Methodist Church. Visitation is at 9:30 a.m., the memorial begins at 11:00 a.m.
Family and friends set up a GoFundMe page for the 14-year-old survivor. Click or tap here to donate.