This is an archived article and the information in the article may be outdated. Please look at the time stamp on the story to see when it was last updated.
KANSAS CITY, Mo. — Under a beautiful blue sky, hundreds of hurting family and friends gathered Thursday night near 18th and Highland in Kansas City's Jazz District to remember a young father they say died too soon.
"It's very devastating. I'm very heartbroken. My heart is torn into pieces," Cynthia Thompson said.
Gary Starr was Thompson's only son and the oldest of her two children. Relatives say Starr was preparing to go to school to become a barber.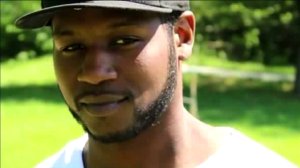 "It does't seem real. I think I'm still dreaming. I can't explain it. I"m missing a part of me. It hurts," Thompson said.
Family members said Friday night Starr was standing in a line waiting to get inside the Juke House when several guys ran up behind him and shot him. The young father, who turned 23 last month and had a 1-year-old son, collapsed and died.
"He didn't bother nobody. So if they had a problem with him, they cold have come to him like a man not like a coward. You know what I'm saying? That was a coward move," a frustrated Gary Starr Sr. said.
What can the hurting family and friends do for some comfort? Thursday night more than 100 of them packed 18th and Highland, prayed for an end to "the senseless gun violence in Kansas City" and released several dozen balloons in memory of the son, brother and young dad.
"I'm going to try my best to take it day by day, but it hurts. They took a big part out of me away. Whoever did it, just turn yourself in, please," Thompson said.