This is an archived article and the information in the article may be outdated. Please look at the time stamp on the story to see when it was last updated.
CLAY COUNTY, Mo. — Family has identified two young sisters who died on Wednesday as investigators try to figure out what happened to them.
The younger sister is Goodknight Berretta June Ribando, who was born on Mother's Day and was 7 weeks old. Ireland Autumn Jane Ribando was 2 years old.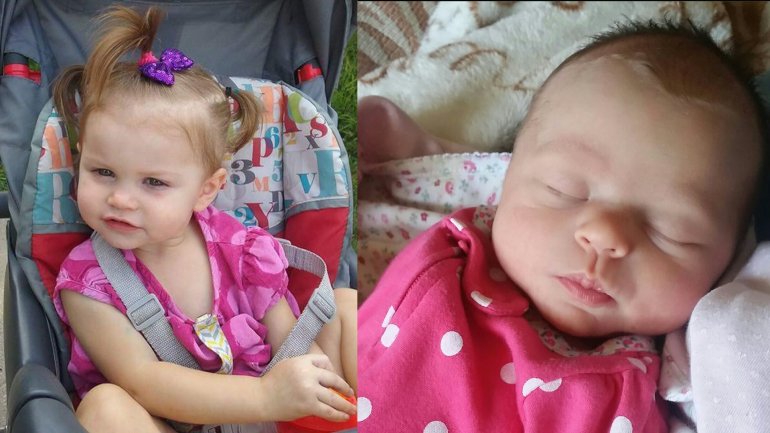 So far investigators say there are no signs of foul play. A GoFundMe has been set up for their funeral expenses.
FOX4 reached out to Clay County investigators Thursday morning for updated information, we haven't yet learned anything new from them.
Sheriff`s deputies were called to the family's house off of 92 Highway and Cameron Road, just east of Kearney, shortly after noon on Wednesday. When they arrived, they found the sisters unresponsive with no evidence of how they died.
The mother told investigators she went outside and found both girls not breathing, so she picked them up and ran them to the neighbor`s house for help.
Officials say there were no apparent physical injuries to the girls. They didn`t appear to be hit by a car or shot, and it didn`t appear as if either one drowned. FOX4 crews did see an SUV on the property with its doors open, and with it being such a hot day we asked if the heat could`ve caused their deaths. That is something investigators said the medical examiner will determine once the autopsies are complete. The Jackson County Medical Examiner's Office will conduct the autopsies.
Investigators spent the rest of the day on the property executing a search warrant to find whatever clues and evidence they could to help solve this mystery.
"So far everyone that`s involved is working with investigators. There`s no reason to believe anyone is trying to hide anything but we know with other situations, we want to make sure no one is lying and make sure we get to the bottom of this," Captain Will Akin said on Wednesday.
Investigators say the girls` mother is cooperating right now and at this time, is not a suspect. FOX4 will continue to follow and share developments as the investigation progresses.